* Mohanlal was slated to play a role but will not be found in it, finally.
* The talking point of ``Thenaali'' at the moment is the fee paid to Kamal, which is said to be a few crores and a career high for him. A hefty advance has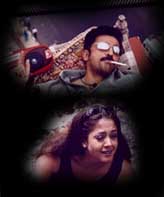 already been given.
* Meena was replaced by Simran who later was replaced by Joythika..All for Aesthetics Speaking of Jyotika and 'Tenali'. While there are many heroines who shy away from kissing on screen, Jyotika is said to be an exception. "I find nothing wrong in doing a kissing scene. In 'Khushi' too, there was a kissing scene with Vijay in the climax scene," says the actress. Jyotika is teamed with Kamal Hassan in 'Tenali". And everybody knows how Kamal loves to have these kissing scenes in his films. All aesthetically taken and for the betterment of the film, of course.