An Oliver Twist like orphan boy, a widow, and a widower come together. And begin life a new, in Mumbai. Unshackled from the traumatic past. She goes to work in a bank; the orphan stays with her, while the widower works as a photo-journalist in a leading newspaper. Director Vasanth goes to handle these three main characters and weaves an emotional web of relationships with sensitivity and finesse. The script was loosely constructed and so the tempo of the film takes a beating. The director seems preoccupied with the so-called commercial ingredients, which only mar the overall impact of the film.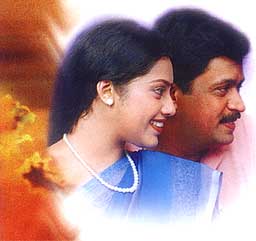 The film is cluttered with lot of wise cracks by Manivannan. While the song-dance numbers are excellently picturised, they seem more like forced into the narration. Like the sizzling number by Ramya Krishnan and the Shanker Mahadevan song-dance item. Further, the director stretches to almost snapping length the suspense element -- as to whether the widow and the widower, who develop a fondness for one another, will unite in the end. So the now-on-now-off relationship at times tries one's patience. The arrival of the widow's mother-in-law almost at the fag end, when the two are just about to re-unite, worsens matters. The mom-in-law, using emotional blackmail to get her daughter-in-law to resign and go with her back to Kunnoor, only drags the story further before the desired end.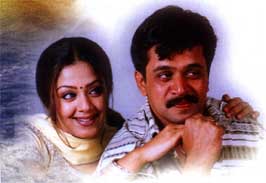 Action King' Arjun has got no fight sequences here, but has handled his role with understanding and maturity. Meena gives a creditable account of herself. Nagesh proves that given a chance he can still deliver. Ramesh Arvind is fine in the cameo as Meena's husband; Jyotika has little to do as Arjun's wife. Master Adithya steals the scenes from right under the eyes of the seniors in many places. 'Rhythm' has shades of 'Alaipayuthe' in the scenes of the train encounters and in the depiction of the on-off relationship. Handled better, "Rhythm' could have turned out to be a must-watch film, though it is still definitely far better than the run-of-the-mill ones.
[thennali] tamilstar: 15.08.2000: It was a different kind of celebration altogether. The atmosphere of course was festive with all the associated paraphernelia - posters , buntings and music to welcome the cellulloid glitterati, media, specially invited guests and a few gate-crashers thrown in.
After 'Avvai Shanmughi' both Tamil film director KS Ravikumar and actor Kamalhassan are once again coming together in 'Thenali', the former's first home production. Apart from direction, the story, screenplay and dialogue also are by Ravikumar. The film is to be produced by Ravikumar's wife R.Karpagam. A full-lenghth comedy 'Thenali' has music by AR Rahman. The launch function of this ambitious project at Kalaivanar Arangam on 23rd March, 2000 from start to finish was unique in many respects.
Any Kamal Hasan starrer make the actor's fans go 'paagal' (mad) with joy , so it was only apt that the guests were ushered in with the band playing the song 'Dil to paagal hai...'. The list of cellullod bigwigs gathered inside the auditorium would have read like the 'who is who' of Tamil Film industry. But the major draw other than Kamal was the unassuming Rajanikanth. The 'superstar' sat through the whole show and joined Ravikumar to garland 'super actor' Kamal Haasan, the hero of Thenali, (The differentiation , deliberate or not, 'super star' and 'super actor' is not mine, but comperer YG Mahendran's!)
The most pleasant and relieving variation was, instead of testing the audience's patience with laborious speeches the 104 silver screen VIPs, starting with Rajanikanth and Kamalhassan went up on the stage and lighted the traditional 'kuthuvilakku' which was big enough to accommodate everyone. There was a big line up of stars, directors and producers to felicitate Ravikumar, Kamalhassan and everyone else connected with the project. Present were 'kathalmannan' of yesteryears Gemini Ganesan, veterans like K.Balachander, A.C.Tirulokachander, Singeetam Sreenivasa Rao, writer Sujatha, hit-making directors Bharathiraja, Bhagyaraj, Mani Ratnam, Vikraman, Agathian and Shankar and also stars including the heroine of the film Jyothika, Sharathkumar, Meena, Ramya Krishnan, the soon to be married Ajith-Shalini, "homely" Devyani, Vijay, Karan, Thyagarajan,who comperer Y.G.Mahendran, had the audacity to introduce as just actor "Prasanth's father".
That was not the only faux paus committed by Mahendran. The 'boneless wonder' Prabhudeva was very much there but was neither called to the stage nor was his presence even acknowledged. And to add insult to injury YGM came up with the tongue-in-cheek winding up statement that "those who hadn't been called to the stage to light the traditional lamp could go home and do so"!
A touching gesture on the part of Ravikumar was making his parents, brother's sister's, and parents-in-law light the lamp, seeking their blessings in his new venture. The formal launch of the film was done in an innovative manner by flashing the names of KS Ravikumar, his wife and producer R.Karpagam, AR Rahman and Kamalhassan with neon bulbs on the colourful screen at the back of the dais.
Kamalhassan and K.Balachander carried between them a giant-size rose-garland and garlanded Rajanikanth who would be receiving the 'Padmabhooshan' Award on March 30th at New Delhi.
For actress Jyothika, this really is an acting coup as she is Kamalhassan's leading lady in 'Thenali'. An opportunity so far missed out on in her career by sister Nagma who has acted with all the other top actors of contemporary Tamil film world.
Rs.50,000 was donated to an orphanage and lunch was served on the same day for the inmates by KS Ravikumar. A gesture which must have pleased the Gods and augured well for his success in his new venture.
Earlier Thenali was supposed to have both Kamalhassan and the Malayalam superstar Mohanlal in stellar roles. Lal had heard the story and liked it too but did not have dates to spare, it was rumoured. So instead the director had chosen actor Jayaram who has not been seen on the Tamil screen for some time now. Though Jayaram's pictures were splashed on the invitation card the star was conspicuous by his absence on the occasion. Another date problem…..?
[thennali] Subhash K Jha : Screen : 11/08/2000 Kamal's Hindi fans have a long wait ahead-His next release Tenali is a Tamil movie. Before we could exclaim 'Hey Ram' Kamal hassan has moved on to his next venture. His new Tamil production Tenali is almost complete, "I completed the dubbing. Now we are just waiting for ARRahman to give us one more song," said kamal on the day Veerappan whisked away Dr Rajkumar.

"We would have released Tenali in September if Rahman had been a little faster.
But we can't complain about the pace of his working. As a matter of fact we have had envious glances thrown our way for getting Rahman at such short notice. I believe Shyam Benegal saab and others are waiting in the queue."
thennali: The most talked about rift between Rahman and Vairamuthu is accentuated again with the lyrics selections for "Thennali". Despite the apparent differences between the duo, earlier it was believed that there could be still scope for few songs from Vairamuthu in "Thennali". But now the latest buzz is in the film there is not even a single song from Vairamuthu. Instead Rahman this time has opted for lyrics from a new battery of songwriters like Illamkamban, Kallaikumar, Arivumathi and Piraisudan. Incidentally all these lyricists pen for the first time for Rahman, whose doors until now were open only for Vairamuthu. So looks like the golden era of Rahman-Vairamuthu combination is almost over now.
With Ravikumar's reputation for prolifically churning out movies in unbelievable speed, not surprisingly his own home production "Thennali" with Kamalhaasan in its lead is almost nearing towards its completion. However the production pace of the movie is presently kept under check by Rahman's music score. Apparently three out of six songs for Thennali are already complete with some tunes that were previously set aside by the composer. But now with Rahman being totally preoccupied with his London assignment, it is going to take sometime before he completes the other songs and the background score for "Thennali". Considering this delay factor, at the earliest we could only expect "Thennali" to become a Deepavali release for this year.
In addition to its regular heroines Jyothika and Devayani "Thennali" also has Meena appearing in a guest role. Interestingly Meena comes as actress Meena herself in the film. Nonetheless like Kamal Meena also speaks Sri Lankan Tamil in the movie. Besides Meena, popular radio announcer "Ilangai Vaanoli" fame Abdul Hameed also appears in a guest role in "Thennali".
Padma awards conferred on 70
March 30,2000,16;40hrs(IST)
New Delhi: President K R Narayanan on Thursday gave away the Padma awards to 70 eminent persons from various fields at a simple ceremony at Rashtrapati Bhavan.
Eleven received the Padma Vibhushan, 20 the Padma Bhushan and 39 the Padma Shri.
Prominent among the awardees are flute player Pandit Hari Prasad Chaurasia, vocal classical singer Pandit Jasraj, senior BJP leader Sikander Bhakt, journalist and environmentalist Anil Kumar Agarwal, famous dancing pair Radha and Raja Reddy, industralist Ratan Naval Tata, film star Hema Malini, film music director A R Rehman and veteran film producer Ramanand Sagar.
Famous economist Prof Jagdish Natwarlal Bhagwati, novelist R K Narayanan, information technology leader of infosys technologies N R Narayana Murthy, Abdur Rahman Rahi and Dr Gurdev Singh Khush were not present in the 45-minute ceremony to receive their awards.
Three awardees, Padma Bhushan K J Somaiya, Padma Bhushan Dr Suryanarayana Srinivasan and Padma Shri E Nilakanta Singh, were given award posthumously.
UNI
FEFSI is in the news again
FEFSI - Sounds like a soft drink's publicity campaign, doesn't it? But truly there is nothing controversial this time regarding FEFSI's announcement. Just a simple matter, like a roof over its head! The Film Employees Federation of South India does not have a house of its own. So its chief, Director K. Balachander has come out with this idea - a festival of cultural events hosted by the film industry, on May first, Labour Day. The venue is the Nehru Indoor Stadium. The participants are the entire film industry, the artistes, the technicians and the singers for a programme lasting four hours.
At a 'meet the press', K. Balachander said that there were 23 unions which had their own buildings. But FEFSI the main organisation, under which the rest of the unions come, had no building of its own. The Tamilnadu Government has granted them 2 ¼ grounds at the 100 Feet Road in Vadapazhani. But the unit does not have enough funds to construct a building. Since Balachander took over the leadership of the organisation, his main aim has been to see that FEFSI gets its own building within his tenure. And to collect an amount of Rs. Two crores - the minimum amount needed to construct the building - is no easy task. It had to be a combined effort and the whole industry has to pitch in. Hence the idea of holding a cultural event, where the entire industry can take part and contribute to a good cause.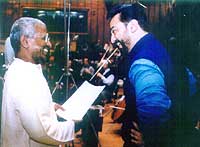 Chief Minister Karunanidhi would be asked to preside over the event. Being an industry man, there is no way he would refuse it. The artistes have all sent in their consent to participate in the big event. Big names like Shivaji Ganesan, Superstar Rajinikant, Kamal Hassan, Vijayakant, Sharat Kumar, Prabhu, Kartik, Satyaraj, Arjun, Ajit, Vijay, Murali, Partibhan, Napoleon and many more. Artistes from other languages have also expressed their willingness to participate in the event - Amitabh Bachchan from Hindi, Mamootty and Mohanlal from Malayalam, Chiranjeevi from Telugu and Ravichandran from Kannada films. Added to this will be a session with names like Illayaraja, M.S. Vishwanathan, Deva, S.A. Rajkumar jointly conducting the musical event. Singers S.P.B., Jesudas, Hariharan, Shankar Mahadevan, Mano, Krishnaraj, Unni Krishnan, S. Janaki, Swaranalatha, Chitra and others will be singing under their baton. Sadly A.R. Rehman will be missing, as he will be away in London. But his music from the film 'Rhythm' will be featured there.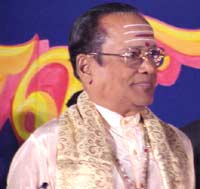 There will be three stage-plays. Goundamani who has been rarely seen on stage at film events will team up with Senthil in a skit. Yet another play written by director V. Shekhar will have Partibhan, Vadivelu, Charlie and Kovai Sarala in it. And a third play will be written by Partibhan. And Manivannan and Satyaraj will feature in a play written by Manivannan. The final event will be the hip-swaying dances. Dance choregraphers Raju Sundaram, Prabhu Deva, Kala, Tarun Kumar, Chinni Prakash, Murali, John Babu, Rajshekhar and Lawrence will choreograph the dances. And artistes Arjun, Vijay, Ajit, Prashant, Abbas, Surya, Vikram, Prabhu Deva, Manoj, Arun Kumar, Silambarasan, Meena, Roja, Kushbu, Rambha, Ramya Krishnan, Devayani, Suvalakshmi, Simran, Nagma, Jyotika, Manthara, Malavika, Preetha Vijaykumar, Kausalya, Sanghavi and Isha Kopikar will be participating in this event.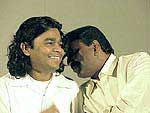 The event lasting 4 ¼ hours will be divided into three sections - music, dance and drama. The visuals will be taken care of by P.C. Sriram, Jayan Vincent and Jeeva. A committee has been formed under the leadership of K. Balachander for which Cinematographer P.N. Sundaram, is the secretary, C.R. Mani is the financial controller, and the members include - Bharatiraja, V. Shekhar, Nasser, R.K. Selvamani, Partibhan, Chitra Lakshmanan, P.C. Sriram, Muhammad Nayeem, C.K., Thottatharani, M.D.Sunder, Hemachandran, Kala, Murali, Ramadurai, Jeeva, Jayanan Vincent, V. Sundaram, Shivashankaran, K. Narayanan, M. Sukumar, Ramji, T. Rajendran, Sreenivasan and Raghuram among others. So watch out and wait for this mega event on May 1st.