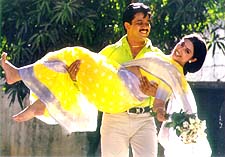 The venue was the beautiful beach at the Marine Drive, Bombay. The artistes present were Arjun and Meena. The film 'RHYTHM', and wielding the megaphone was director Vasanth. The scene taken for the day had Meena standing alone, a solitary figure, looking at the water, cutting a pretty picture. Arjun walks up to her, hesitates a little, trying to gather his courage. Then softly he expresses his love to Meena.
Vasanth canned the shot with satisfaction. In this love story, Arjun plays a press reporter named Karthikeyan while Meena plays Chitra, a bank employee. Says Arjun of his role, 'It is a soft role, quite different from the ones I've done earlier. But I do have my share of fights. There are two well choreographed fight-scenes which should please my fans". The debutante cinematographer Vinod who has had his apprenticeship with Santosh Sivan shoots the film.
After a 15 days schedule in Bombay, the unit shifted to various locations to picturise a song sequence. Accompanying them was choreographer Raju Sundaram. The song 'Nathiye Nathiye… Kadhal Nathiye' (sung by Unni Menon) was shot at the exotic locations of Mysore, the Shivasamudram dam, and the Thriveni Sangamam. After a stint at Chalakudy and Ooty, the unit moved North to Haridwar, Bhadrinath and the Gangotri. Vasanth plans to picturise two songs in Switzerland.
Apart from Arjun and Meena, the supporting cast has Lakshmi, Nagesh, Manivannan, Ajay Ratnam, Mohanram, Hemant and Master Adithyan. Vasanth who also writes the story-dialogue and screenplay has a good technical team working for him. A.R. Rehman scores the tunes for Vairamuthu's lyrics, while Srikar Prasad ('Terrorist' won him the national award) takes care of the editing. Progressing at a fast pace, and produced by V. Natarajan of Pyramid Films, 'RHYTHM' is scheduled for a February release.
Unnaruge Naan Irrunthal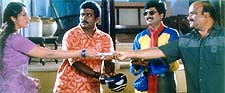 A shooting schedule took place at Pollachi for the film 'Unnaruge Naan Irunthal' starring Partibhan and Meena. The duo comes again together after a successful pairing in 'Bharati Kannamma'. Forming the third angle is Rambha. Selva who had earlier directed such film, as 'Thalaivasal', 'Pooveli', and 'Rojavanam' writers the screenplay, apart from directing the film. It is the director's first film with Partibhan.
The film has music by Deva, dialogues by Murthy Ramesh and Raghavan Ponnusamy, and cinematography by Reghunath Reddy. The film's supporting cast includes Anand, Anandraj, Anju Arvind, Manorama, Kakka Radhakrishnan, Jai Ganesh and Fatima Babu. Vadivelu, Vivek and Vyapuri from the comedy team.
'Unnaruge Naan Irunthal' is produced by K.Muralidharan, V. Swaminathan and G. Venugopal under the banner 'Lakshmi Movie Makers'. The banner had earlier produced such successful films like 'Gokulathil Seethai', Unnidathil Enne Koduthen' and the recently released Karthik's starrer 'Unakkaga Ellam Unakkaga'.
Rasika, chennai news