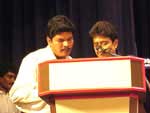 The mega movie "Mudhalvan" has crossed 100 days and a grand function was held at the Kamaraj Memorial hall on 25th Feb. in which all the stars from yesteryears till date were present. On the dais were Gemini Ganesan, Kamalhassan, Parthiban, the ex DGP Karthikeyan, Director K.S. Ravikumar, Producer A.M. Ratinam, Vadivelu, Actor Pandiarajan, Vikram, Vijay Kumar, K.Balachander, Ajith Kumar and Prasanth. Those present from the Mudhalvan crew were, the star of the movie Arjun, Manisha Koirala, Vairamuthu, A.R. Rehman, Dialogue writer "Sujatha" Rangarajan, Nasser, Raghuvaran, Manivannan , Film producer Maadesh and of course Shanker himself.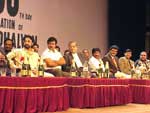 Shanker, credited for handling his subjects with a difference, welcomed the stars with a non-alcoholic champagne bottle. The maximum number of claps were received by Vasundra Das, who has sung "Shakalaka baby" in "Mudhalvan" and has also paired with Kamalhassan in "Hey Ram". Speaking at the function, Sujatha said that it was an enjoyable assignment to work along with Shanker as both of them vibe at the same wavelength. Nasser, in his short speech, said that the five continuous hits given by Shanker is a record of sorts in recent times. S.Ve. Shekar, compering the show, requested Vasundra Das to sing "Shakalaka Baby" on stage. Although a little reluctant, she sang the first two lines of the popular number.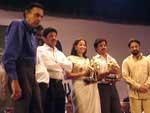 A.M.Ratinam, in his long speech, pointed out that the Telugu versions of all the movies distributed by him were massive hits and added that Shanker has the same large fan following in Andhra as in Tamilnadu. The "Sethu" star Vikram compared Director Shanker with Spielberg for planning and executing big budgetted films. Ajith Kumar pointed out that some of the new directors might prove to be Shankers in the making, ready to take Tamil cinema to greater heights.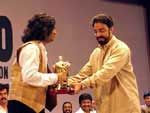 Director K.S. Ravikumar urged the government to take action against pirated VCDs and Cable TVs that run them. He said that out of the average 100 new moviegoers, 40 prefer to watch in pirated VCD and 30 in cable TV and added that only 30 of them now watch the film in the theatres. Lyricist Vairamuthu was all praise for A.R.Rehman and said that it is easier for Illayaraja to compose folk tunes, as he was born and brought up in a village. But Rehman, being a city product, has been able to create folk tunes because of his in-depth urge to explore good music. Vairamuthu congratulated Shanker for his efforts to create a good movie. Director Balachander said that Shanker's directorial skills are such that would make any Indian film director feel jealous about.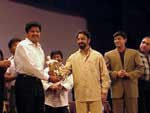 Director Shanker compared the fans buying tickets to watch the movie with votes rendered by the public during elections and said that the movie has been elected well with millions of people favouring it. The toughest job was for Kamalhassan who had to give away the numerous mementos (A bronze statue which looked like the Mudhalvan hero and weighed several kilos) to distributors, film crews, theatre owners and others who helped the movie in its resounding success. He said that Shanker is a keen learner and whenever new ideas are given to him, he would not pretend as though he already knows about them. Kamal also appreciated the performance of Vikram in the movie "Sethu" by stating that this was a long pending due from Vikram.
On the recent protest against "Hey Ram" in W.Bengal, Kamal said that he had just received a mail from the concerned government stating that it was sorry for the acts committed by a few. He also added that the government had promised to honour him at a function to be held in W.Bengal very soon.
[source] "Film Buzz" Prabhu, chennai news
to mudhalvan main page | 100days images | images from the movie