His music suggests a flamboy-ant and aggressive creator, but A.R. Rahman comes across as an extremely patient, polite-to-a-fault and completely untouched-by-fame individual. His dark locks frame his cherubic face and fall to his shoulders in total disarray. As he talks, he impatiently pushes back the strands. That apart, he doesn't fidget or shift, and appears at peace with himself and his world of music. Excerpts from an interview conducted at his office in Kodambakkam, Chennai: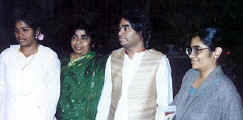 Harmony begins at home: Rahman with his mother Karima (in the green sari) and sisters Ishrat (left) and Rehna (right) at the release of Jana Gana Mana 2000 in New Delhi; (below left) Rahman with his wife Saira

Now that you will begin work with internationally acclaimed geniuses like Andrew Lloyd Webber and Shekher Kapur, how does it feel?
I think Indian music is spreading, and the world is accepting something from this country. Spanish music took over with Ricky Martin. It is a cycle. The world has been accepting something from India for the last couple of years.

It has also got to do with the growth of the South Asian community all over the world. Even film collections have gone up, beginning with Dil Se.

How did it feel receiving the Padma Shri?
I feel greatly honoured. Since I am going abroad, I feel really happy that I got it now. For the first time, a music director has been given this award, which makes it really good.

Are you satisfied with the way your career has shaped up?
The way it took off, it seems it was destined. Mani Ratnam, who had sworn he wouldn't sign a music director other than Ilayaraja, came to me. So my career started on a high. After that everything had to go beyond that; it pushed me to do something more. I am not a very ambitious person who says I want to do this, this and this. I think God has been very kind to me. He has given me the best.

But did you expect things to turn out the way they did?
It is very unusual. I started my career thinking that Roja would be my last film. I was not interested in doing films. I had been in it for almost 15 years with my father, playing for other people. I didn't want to go through that again. I wanted something different in my life.


Such as?
Maybe I would have got into experimental kind of music. But there is no market for those things. Then film music opened up. It was no longer the same clichˇd kind of thing. Different directors came who wanted something new; people also wanted something new and accepted whatever experiments we did. That changed my opinion. Films reach more people, there is more money involved.

How would you define your kind of music?
How can I define my music? It is a reflection of how I began my life, the good and bad things that happened. I can't say this is my life and this is how I intended it to be. It came naturally. I don't plan anything.

When we started Roja we wanted to create something people had never heard before, at the same time maintaining a standard in lyrics and melody. Something told me it would become a big success; I was travelling in the same boat as Mani Ratnam and the music would be noticed. That it was accepted was a blessing. Mani Ratnam opened up a big thing for me and I owe it to him. There is a lot of freedom when I work with Mani.

After Roja things only went uphill?
Well, almost. There was a lot of confusion. When I listened to criticism or suggestions from people, I had to learn what to take and what to reject. At times it was very hard. Whatever plus we had would be criticised. We had to decide that this is our plus and we should not leave it. We should continue with the style and the more we continue with it, the more it will register.

Have you become more confident of your music?
No, I am never confident. Sometimes it takes me two or three days, sometimes three months, to get the sound right. Sometimes things go wrong always. But once it is fixed then it's fine.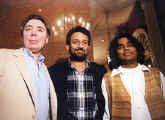 In busines: Rehman with Sir Andrew Lioyd Webber
and Shekher Kapur


Yeah. He was the first one in India to buy a synthesiser. He bought it from Singapore in 1973, I think, and being the first buyer, he got a free ticket to Japan. So I had all this stuff to play with. He died in 1976.

After that you were pushed into music?
In a way. (Laughs.) Initially it was just work. At the age of 14 or 15, I would have preferred going somewhere else. But I had to work with people over the age of 40. In some ways I was the next generation and at the same time I was not. In a way I got the best of both worlds. (Laughs.)

What does music mean to you?
So far I have just been catering to film scripts. Sometimes I have given to films ideas which I had for an album. For some of Mani Ratnam's films I had certain ideas and it fitted into the script. For instance I wanted to do a theme like Bombay, which would be a reflection of the incident, to create a symphony kind of piece. In Roja the song Tamizha Tamizha though out of the script fitted into it.

What excites you about a project first?
With a good director, irrespective of the script, the rapport will be good. That makes it interesting, and the music will also be good. It is a problem if the person is somewhere else and I am here.

What triggers the creative process in you?
When I am mentally disturbed I pray. Before starting a session that gives me a vacuum to start with, rather than having something predetermined which might misguide me. It is almost like starting from square one. But it makes my job interesting and when I sit there something gets triggered off inside me.

I belive that every individual, even an atom, can move only with the will of God. I don't take credit for doing all this. If I did, then I would fall flat.

Don't external factors like family affect your concentration?
Yeah, they do. But when it comes to music you forget everything. The magic of music and prayer. You are almost on another trip. Only when you finish do you get back.

You seem to be very religious...
(Pauses.) I believe that every individual, even an atom, can move only with the will of God. I don't take any credit for doing all this.

You sound very level-headed for a man who has earned so much fame and money so quickly?
It is balance... well, it is almost contradictory. You want fame, but once you get it you lose your head. So just leave it to God and carry on with your work. It makes it all easy. If I put it in my head that I did it, then I fall flat because I can't take the next step.

Why did you convert?
(A long pause.) My dad went through a lot of problems. He was sick, my childhood was a disaster. I spent most of my childhood in hospitals. There came a stage when the family was almost down. We met a pir sahab at that time. It is inexplicable. It just happened. My idea of God coincided with all this. I thought, 'Okay, this was something that was bound to happen.'

You have never regretted it?
See, there are a lot of things involved. God and religion are very personal. Now it has become politics. I don't think I want to talk any more on it. (Laughs.)

But you agree that religion has become politicised?
I think religion should be left to a person. The mosque or temple should be within oneself. That is the best thing.

What about the controversy over Vande Mataram?
It depends on how you take it. Vande Mataram is about a mother and the message is peace be upon you. The mother is the country and when you say peace be upon you it goes beyond politics. That is the way I take it.

When one makes something there is always the good and the bad. You just take the good. In the album I have put not only this, but a nicer version of it in a more serene way. It is not as if it will replace anything. The main reasons for doing it were my friends Bharat Bala and Kanika. We wanted to give something to the youth. We felt there was nothing, no song that this MTV generation could relate to, something they could identify with.

Given the amount of work music composers do, is it inevitable that they repeat themselves?
You never know because you can't always be careful. You can't predict when something comes out of you. It is a feeling and I can't keep a constant check on and stop things coming and say let me not play now. Later somebody says this is similar to that, and then you change it. It happens sometimes. Mostly the director checks all that. I don't give the director just one choice. There are always lots of choices.

How important is the Tamil identity to you?
I hate the discrimination between south, north, Tamil, Hindi. If I represent India that is good enough for me. Of course, I have always been here. But we should cross all these barriers and think bigger. I get very irritated with this kind of thinking.

But has your Tamil identity given you anything special?
Definitely. But I see the entire world as a living place. Suddenly a category called world music has come and we are all able to relate to it. In all probability in a couple of years all the cultures will meet. There won't be any English or Tamil music. We will all be able to relate to 'music'. That is the ultimate thing.

So will you give up on film music?
God knows. (Laughs.)

How do you cope with your unorthodox working hours?
There is so much disturbance during the day. To create music you need peace and in my style of work if I turn my face away even once, I have to start from the beginning. So night time suits me. I finish off my other work by 10 p.m. and start with my sound engineer and maybe the director also.

The directors never crib?
(Laughs.) As long as the work is done they don't crib.

What about your family?
It has been like this for a long time. So they don't bother.

Tell us about your family and the kind of support they offer you.
I have two daughters. My wife doesn't work. My wife and mother listen to my music and give me feedback.

Do you get time to spend with them?
I work from my house. So it helps.

How do you relax?
It comes naturally. When you push yourself hard for 2 or 3 months, then you have to take a break. I go out with my family.

Don't you get recognised and mobbed when you go out?
But then I don't go to places where there are people. (Laughs.)"

Why is black your favourite colour? You also wear your hair long...
I thought both suit me. (Laughs heartily.)