Padma Shri A R Rahman on his musical inspiration and influences
Padma Shri A R Rahman on his musical inspiration and influences. Music composer A R Rahman received the Padma Shri in the civil honours awarded this week. He's the musician and keyboard whiz who's just announced plans for a stage musical in London with Sir Andrew Lloyd Webber. Rahman's father was Malayalam film music composer R K Shekhar. Rahman won a scholarship to the Trinity College of Music in London. He then worked with musicians like Ilayaraja and Shiva Mani before composing the hit music for Mani Ratnam's Roja, which put his very original brand of music on the film map. His biggest non-film hit is the memorable Vande Mataram....
Were you surprised when the Padma Shri was awarded to you some months ago? How did it feel receiving it from the President this week?
It felt very good because so far, this is the best award that I have got in this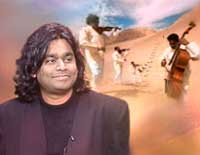 country.

Why?
For the first time, a music director is getting it. Usually, classical musicians get it. It feels special.

Your most interesting piece of recent news is Bombay Dreams, a stage musical in London with Andrew Lloyd Webber. In fact, Webber said that the purpose of his trip to India was chiefly to meet you. What's the project about?
It's a musical play in English based on big songs, like Bollywood numbers. It is very complex and at the same time simple.

How did you and Bharatbala productions conceive the idea of getting the country's top musicians and singers, like Amjad Ali Khan, Shobha Gurtu, Kavita Krishamurthy and Parveen Sultana, to perform Jana Gana Mana, the national anthem? What was it like working with such a complex range of musicians?
First, it was a great honour to do a project like this one. We never got a "no" from anybody. We didn't even get an "okay, we will do it later." They gave the dates immediately, and it was great to meet all these musicians.

Did the idea come from Vande Mataram?
The main idea sprang from the fact that we wanted to do something for Kargil. Kanika and Bala of Bharatbala Productions wanted to do the national anthem in a soulful and slow way. Later, we developed ideas for the whole album.

What was it like working with this vast range of musicians, combining all kinds of music and instruments?
It was amazing because each instrument has its particular pitch, and they can't be played comfortably on another pitch. But in this case, we managed to get a common pitch in D-major. We almost got it in that pitch, which is great cooperation on the part of all the musicians.

Where, or how exactly, does a melody start for you? Is it musical notes, or the sounds of certain instruments or even the tone of a particular singing voice that gets you going?
It's very unpredictable. The concept comes suddenly, either as a song, a rhythm, a raag or a lyric. You never know when it originates.

When you did your first hit, Roja, where did that music come from? Where did the songs come from?
The songs were created from scratch, and we reshuffled most of them. Initially, I had done Dil hai chota sa as a sad sequence, but Mani said that we should make it a happy song. Then we put happy poetic lyrics into it. For the other songs, we had a chant. For the first time, we did a song without a antara and a mukhra. This was a nice change since every song has this formula,. So we tried to do away with it in that song. And each song was fun to do.

Looking back now, who would you say were the early or key musical influences in your life? Was it your father?
My father and most of the composers that I have worked with. I think I'd listen to Mr. R D Burman and Naushad. Later, I started listening to the other great legends.

What was that experience like, to get involved with a whole lot of Western music and sound?
Actually, that's the way I started. I was playing Bach and Mozart on the piano. I gave practical exams, where the playing was counted, the feel of the playing. It was only when I started working on commercials that I started to compose tunes.

It's the keyboard in which you have developed great expertise. How did that happen?
My father had left a lot of equipment, and I had to use it. In fact, I was more interested in the guitar. But since we had such costly equipment at home, my mother asked me to learn and make use of it.

Your early experiments were on the piano and mostly came from the Western tradition. But where did the Indian sense of sound come from?
I simultaneously learned Carnatic music with a tutor. I learnt from most of the music composers I worked with. Each song was a learning experience.

What is this ability to switch from jamming to jingles to musicals?
It is a learning process. Once you are a section musician, you have to do everything. They don't believe in specialization. They say that you have to be a John William, a this thing and a that thing. So I had to learn several things rather than stick to just one.

So for you, it really all comes together. All kinds of sounds.
Yes, a lot of influences, a lot of demands.

What kind of demands?
When you are doing ad films and commercials, a whole range of things come into play. They will expect you to do a John William kind of song or an ordinary Ba Ba Black Sheep kind of thing, or a Carnatic school number. So it depends upon each job.