Producer - Director Maniratnam has come full circle with his new film 'Alai Payudhe', slated for an April release. Few know that Maniratnam's first film was not in Tamil. It was a small budged Kannada film titled 'Pallavi Anupallavi', starring the then unknown Anil Kapoor. There was a film in Malayalam too starring Mohanlal who hadn't yet attained superstar status. Mani ventured into the Tamil scene and it was his 'Mouna Ragam' (second film in Tamil) that got him recognition. The Mohan-Revathi - Karthik starrer had a small knot, but the story was told well. The technical gloss was visible, but not such that it would overpower the narration. Then came films like 'Agninachatram' and 'Nayakan' and Mani never looked back. And rising success, increased the size of his canvas too. His films became technically more glossy, at times to the detriment of the content. Like the disappointing 'Thiruda Thiruda', which despite all its technical grandeur and some very catchy numbers by Rehman flopped miserably at the box office.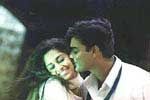 Films like 'Roja' and 'Bombay' got him acclaim at home, and in its dubbed Hindi version in the North too. But when he tried his first Hindi venture 'Dil Se', it was rejected by the audience despite the presence of star names like Shahrukh Khan and Manisha Koirala. Its Tamil version too was a miserable flop. 'My films take time for the audience to understand,' said Mani, hoping it would have a slow pick-up. But nothing happened as expected. And now Mani has come full circle with his new venture 'Alai Payudhe. He reportedly did not want any songs in it, but commercial constraints probably dictated that he take Rehman. 'Alai Payudhe' is a film that has a small star cast and a simple narrative style, like 'Mouna Ragam'. It has Shalini and Madhavan playing the romantic lead. Madhavan has done a few serials for the small screen, modeled for a couple of ads. and acted as one of the heroes (Abbas was the other) in a Kannada film. This is his first film in Tamil. Shalini has just two films on the floors. The other is 'Piriyadha Varam Vendum' with Prashanth (a remake of the Malayalam film 'Niram).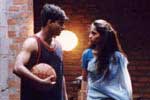 Madhavan and Shalini play a young couple who fall in love and get married. Their post-marital problems threaten to disturb the relationship and that forms the rest of the story. The film also depicts the happy marital life of another couple whose marriage had been arranged by the elders. Love marriage versus arranged marriage seems to be the premise on which the story line is based. Arvind Swamy and Kushbhu make friendly appearances in the film. There is also the chubby vivacious Swarnamalya, an actress from the small screen. Cinematography is by P.C. Sriram. Incidentally, P.C. Sriram was the cinematographer for the Kannada film in which Madhavan had starred. Music is by A. R. Rehman and the tunes have more melody this time. The film is produced by Maniratnam's Madras Talkies.
Malini, chennai news
to alaipyuthey main page | images | download trailer | songs