' Shastri House' was the venue for the shooting of a scene for the film 'UDAYA'. Present on the set was Simran and three hundred artistes dressed as lawyers. The scene was of Simran pleading with the lawyers to take up the case of her lover Udaya (Vijay) arrested for a crime he had not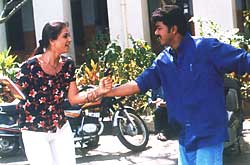 committed. The lawyers plead helplessness telling her that it was a hopeless case and that they didn't want to touch it. A furious and tearful Simran shouts at them telling them that her true lover would get him out of bars. Simran plays Vasanthi and Vijay is Udaya. Director Azhagarperumal canned the shots with Priyan cranking the camera.

While A. R. Rehman sets the music to Vairamuthu's lyrics, the dialogue is by novelist Sujata. Prabhakar designs the sets, while Suresh Urs does the editing. The supporting cast has Nasser, Rajesh, Vivek, 'Thalaivasal' Vijay, Bala, Singh, Kazan Khan, Shanti Williams, Delhi Ganesh and Producer V. Natarajan in a cameo role. A top actress from Bombay will be featuring in one of the song sequences. The film progressing at a fast pace in Chennai and Kuttralam. It is being produced by V. Natarajan under the banner ' Geethalaya Films'.
"Ma Tujhe Salam Vandhe Matharam"
Starring Vijayshanti in the lead, a multilingual to be produced in Tamil, Telugu, Malayalam, Kannada and Hindi has been launched recently. Titled 'MA TUJHE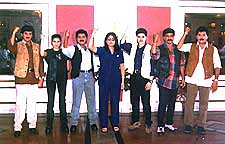 SALAM VANDHE MATHARAM' the film is being produced by Jai Sridevi under the banner Chinny Films. This banner has produced eleven films in Kannada earlier. To suit her 'action queen' image, Vijayshanti has the role of a police officer in this film. An international gang of terrorists mislead the youth of the country, manipulating them for their own ends. The police officer brings them to the right path and exposes the anti-social elements.

The first shot was taken on Vijayshanti following which a twenty-day schedule was held at the Sakleshpur railway station near Mysore. A stunt scene too was picturised involving fifty police dogs and fifty horses. Three helicopters were used to picturise the scene. Choreographing the stunts was stunt master Pazhaniraj and cranking the camera was Janardhan. Directed by Omprakash Rao, the film has music by Deva.

Paired with Vijayshanti are Saikumar, Charenraj and Sharatbabu. There are a lot of youngsters in the film. Sanjay, Anand, Harish, Kumar Govinda, Ramkumar, Vinodraj, Brahmaji, Ashish Vidyarthi, Kazan Khan, Bhavana, and Shantakka form the supporting cast. The shooting for the film is progressing at a fast pace in different locations in Mysore.
Rasika, chennai news