Audio release function | images from kandukondein kandukonein
Stars: Mammooty, Ajith, Abbas, Aishwarya Rai, Tabu, Shamlee
Director: Rajiv Menon
Producer: Kalaipulu Danu
Lyrics: Vairamuthu
Will be made in Tamil, Hindi, Telegu, and Malayalam.
movie release: april 14th
kandukonden kandukonden - chennai news - 03.03.2000
One of the more anticipated films of recent times is 'Kandukonden kandukonden'. It is being produced under the banner V. Creations. 'Kalaipuli' Dhanu, the film's producer, is known for his lavishly budgeted films and his shrewd publicity strategies. Rajiv Menon in his very first film had revealed himself as a man with different ideas. The debut film (Minsara Kanavu) may have looked like an ad. man's work with it being good in bits and pieces, and some engaging colourful frames. But Rajiv would have learnt from experience and this film should have a smoother flow.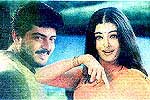 The names of the artistes in the film reads like who's who of Indian cinema. There is Mammutty, the Malayalam superstar, who has done a quality stuff. And there is Ajit the 'lucky star' whose star is on the rise. Abbas, who may not be the busiest star around, has enough action to make the hearts of teenage girls' go a flutter. And the icing on the cake is the world beauty Aishwarya Rai and the talented Tabu from Bombay. Supporting them is the huge star cast of Manivannan, Srividya, Baby Shyamli, Senthil, Raghuvaran, Dancer Anita Ratnam, Nizhalgal Ravi, S.N.Lakshmi, Malaysia Vasudevan among others.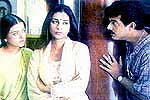 It is a story of two sisters and the men in their lives. There is a lot of scope for sentiment and romance. Aishwarya Rai and Tabu play sisters. While Aishwarya is teamed with Abbas, Tabu, has Ajit as her romantic lead. Ajit plays an assistant director who aspires to be a top director some day. So the show biz world will figure to an extent in the script. Rajiv Menon, apart from wielding the megaphone, also writes the story and the screenplay. A.R.Rehman who scored such good music in Rajiv's 'Minsara Kanavu' is roped in to set to tune the lyrics written by Vairamuthu. Cinematographer Ravi K. Chandran cans the shots, while Sujatha pens the dialogue. Suresh Urs does the editing, Raju Sundaram the dance choreography and Nalini Sriram the costume designing.
One of the songs picturised was shot in the picturesque locales of Scotland and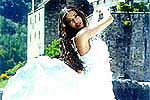 around an old fort built in 1800. The Queen of Scotland seems to have extended all cooperation to the film unit and is said to have presented Aishwarya with an expensive shawl. The film unit later spent about 10 days to shoot a song around the Pyramid and the sandy desert. The shooting of the film and the song
Audio release function | images from the movie