The Times of India News Service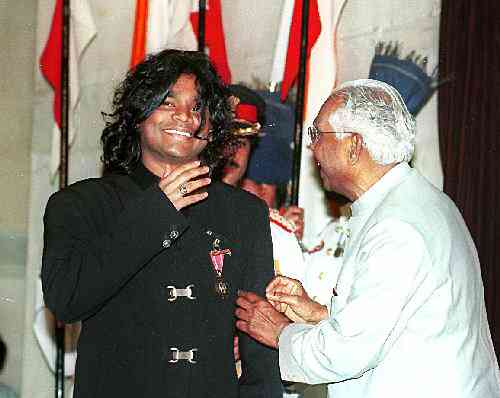 CHENNAI: Padmashri winner and music director A R Rahman has bagged his 12th Filmfare award. This is his eight in a row.
The awards were announced here on Thursday for the four southern states. Rehman was bestowed the best music director award for the Tamil film, Mudalvan.
The other highlights of this year's awards, the 47th Filmfare awards (south), are the best actor awards for the sixth time to Mohanlal for his performance in the Malayalam film, Vanaprastham', the fifth time to Chiranjeevi for his role in the Telugu film, Sneham Kosam, and the third time to Kannada actor Shivraj Kumar for AK-47.
Malayalam actress Manju Warrier steals the show by winning her fourth consecutive best actress award for the film, Pathram. While Telugu actress Soundarya netted her third Filmfare award for her role in Raja.
Tamil film stars Ajit and Ramya Krishnan won their first Filmfare awards for the best actor for Vaalee and Best Actress for Padayappa, respectively.
Telugu film Raja (by R.B. Chowdry) bagged three awards - for the best film, best actress for Soudarya and best music director for S.A. Raj Kumar. For Kumar, this is the third Filmfare award. Telugu film director B. Gopal was adjudged the best director award for the film, Samarasasimha Reddy.
Tamil film, Sethu (by A. Kandasamy) bagged two awards, one for the best film and another for best director - Bala.
Two awards were also won by the Kannada film, Upendra (by H.C. Srinivasa), one as the best film and another for the director with the same name - Upendra. Kannada actress Tara was adjudged the best actress for the film, Kanooru Heggadathi and K Kalyan as the best music director for Chandamuki Pranasakhi.
Malayalam music director Vidya Sagar won his second consecutive Filmfare award for his music in Niram. Veendum Chila Veetu Karyangal by P V Gangadharan bagged the best Malayalam film award and Syama Prasad was adjudged the best director for the Malayalam film, Agnisakshi.
The Filmfare awards would be presented to the winners at a mega show to be held at the Nehru Indoor Stadium here on April 22 at 7 pm. The show would be telecast live on Vijay TV.