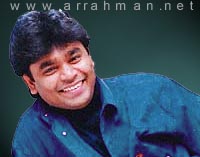 interesting parts from the interview with a r rahman
Q:what are the jingles u have done

arr:john umbrellas,MRF,boost,titan,leo coffee, and i dont remember (giggles) (ofourse how can he remember 300 ads!)

Q:did u expect roja to be a national hit

arr:we did roja with a lot of conviction that it will reach internationally
and by god's grace it happened.

Q:How was the feeling getting a national award for the debut film roja

arr:i dont have time to cherish the joys and repent the failures in life .i
go on with my work not caring
about the response i have got of my previous works(pretty cooool!)

Q:How did you come into films?

arr:My father, R K Shekar was a music director in Malayalam films. He assisted Salil Chowdary, Devrajan and others. He died when I was nine. At eleven I came into the field, playing on the keyboards and later as an accompanist. I worked under various music directors in Tamil, Telegu and Malayalam- Ramesh Naidu, MS Vishwanathan and Illayaraja. It started becoming a bit monotonous. I thought advertising would be a good alternative. This went on for three years. I built my studio and took to different forms of music- pop, rock and so on. It was then that I met producer Tirlok Shardha, cousin of Mani Rathnam at a party. He (Mani) came to my studio and heard some of my tunes. We agreed to work together though we did not decide on which movie. Only later he told me it was to be Roja, which he was directing for K. Balachander.

Q:Despite your success you do not seem to be working on a lot of films?

Rather than making money I believe in making people happy, all other things are secondary. That is why I am not interested in a lot of movies but only in one at a time. I like directors whom I can vibe with. Ten years of experience in this field has made me quite frustrated. I've evolved a technique, which requires a lot of time. Other music directors record a song in 7-8 hours. But I am different. We do a basic sitting and we record it. We record the voice and I add instrument by instrument to improve the quality.

Q:Do you use computers in your film tracks?

arr:No, not computers. The technique is different. In fact they say the music in Roja was computerized. As I said earlier the recording takes time. You can hear the same flute in a different way. It is not computerized music. Nearly 40% "Veerapandi Kottayily" (a song from "Thiruda Thiruda") that does not sound like computer music and "Vellai Mazhai (from Roja) is synthesizer oriented. I do not restrict the musicians but ask them to play whatever they feel. Then I record what I want. I spend a lot of time on lyrics too. It takes around 4 days. We write something in the first instance and then improve. So it take about a week to complete a song.