The Arctic - June 2002
(Click on the pictures to enlarge them)
With my work in the Technology Transfer Office at the European Space Agency I went for one week to the North of Norway and to Svalbard (Spitsbergen) - the Arctic - to work on technology transfer to the Arctic sector. Business trips are actually a very good way to see a country.
---
Troms°
We co-arranged a two day workshop in Troms°. We were extremely lucky with the weather - we had basically beautiful sunshine all day - and all night.
| | | |
| --- | --- | --- |
| Heading of to the workshop at the Polar Environment Centre, Troms°. | Midnight on the top of Storsteinen. Troms° below. | Evening falls as we pass a hilly area on the way to Somar°y outside Troms°. |
---
Svalbard
After Troms° we headed off to Longyearbyen, Svalbard (Spitsbergen). 78 degrees north.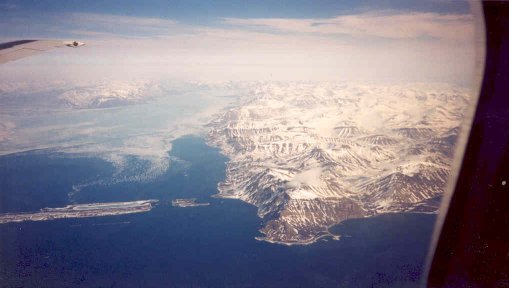 The flight in from Troms° to Svalbard was incredible. It was a clear day, and the total wilderness of the Arctic lay below us.
---
Nature
| | |
| --- | --- |
| Svalbard has unique geological features. The different hardness in the rock-types has lead to different speed of erosion for this mountain (close to Longyearbyen). | Adventdalen, Longyearbyen. |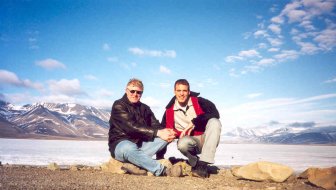 David and I, at the very edge of Longyearbyen.
---
Settlements
Svalbard has only two settlements of any size (in addition a handfull of very small settlements with less than 50 persons). What is unique is that one of the major settlement is Norwegian, and the other is Russian. This is due to the Svalbard-treaty that although placed Svalbard under Norwegian supervision, made it possible for other countries to exploit its resources.
| | |
| --- | --- |
| Longyearbyen. The Norwegian settlement. Almost every house is made from wood, in typical Norwegian mainland style. This is the biggest settlement and the adminstrative center on Svalbard. Some mining is still ongoing, but research and tourism are taking over as the main activites in Longyearbyen. Around 2000 inhabitants. | Barentsburg. The Russian settlement. The settlement mostly consists of huge concrete structures. Based on coal mining. About 1000 inhabitants. |
---
Mining
| | |
| --- | --- |
| An abandoned mine, Longyearbyen. | The cable-car station, Longyearbyen (abandoned). From every direction, coal flowed into this station on cable cars from the hills around Longyearbyen, to be transported onto ships and then freighted to Europe. |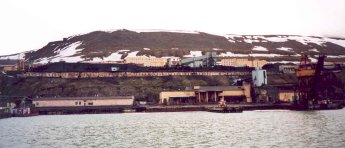 Coal heaps in Barentsburg. Ready to be freighted to Russia and Europe.
---
Svalbard Satellite Station
Svalbard Satellite Station is owned by Kongsberg Satellite Services, but is also used for tracking and downloading data from European Space Agency satellites.
| | |
| --- | --- |
| The largest antenna at Svalbard Satellite Station - from the outside... | ...and from the inside. |
---
The light
The light on Svalbard is amazing. Especially on this day, on the ship from Longyearbyen to Barentsburg, when the sun just about piecered through the clouds - and everything was bathed in silver. Naturally this photo can not do the real thing any justice.
---
Comments
Feel free to send me comments about this page, the photos or Svalbard!
---