DAA - Worst case comparison
These are simulated results of difficulty adjustment algorithms cw-144, k-1 and wt-144.
A set of 1500 scenarios are simulated on all algorithms. The 10 worst performing scenarios, based on stddev of block time, for each algorithm are kept. The algorithms are then plotted on each others worst case scenarios. Duplicate scenarios are removed (leaving 20 out of 30).
To reproduce a scenario, run simulator with the seed in the title of each plot.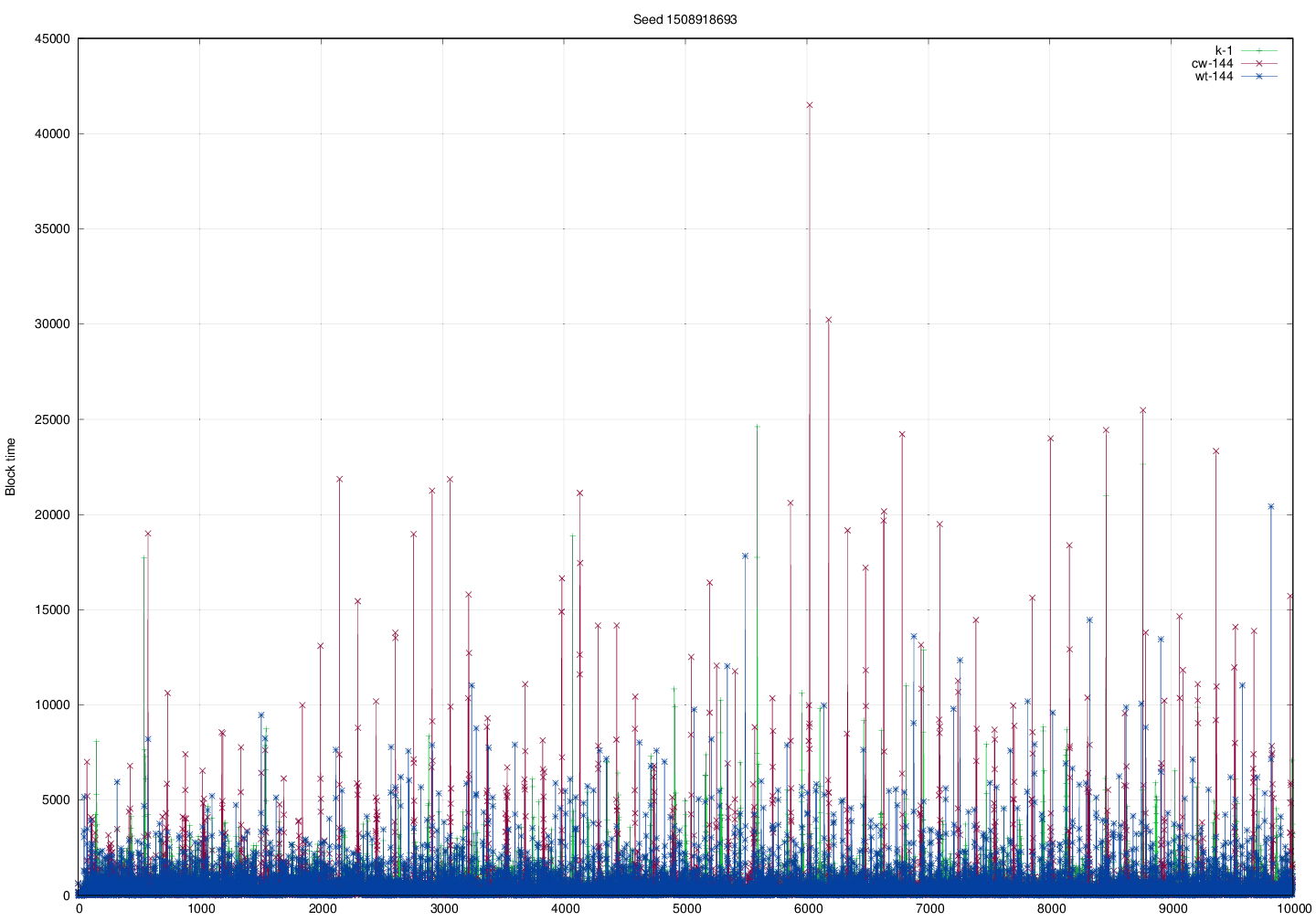 Algo
Stddev
Mean
Median
cw144
1647.40
607.23
214
k1
1002.18
591.86
307
wt144
988.92
609.70
314
Algo
Stddev
Mean
Median
cw144
1636.70
604.78
228
k1
995.41
594.91
322
wt144
896.76
607.48
339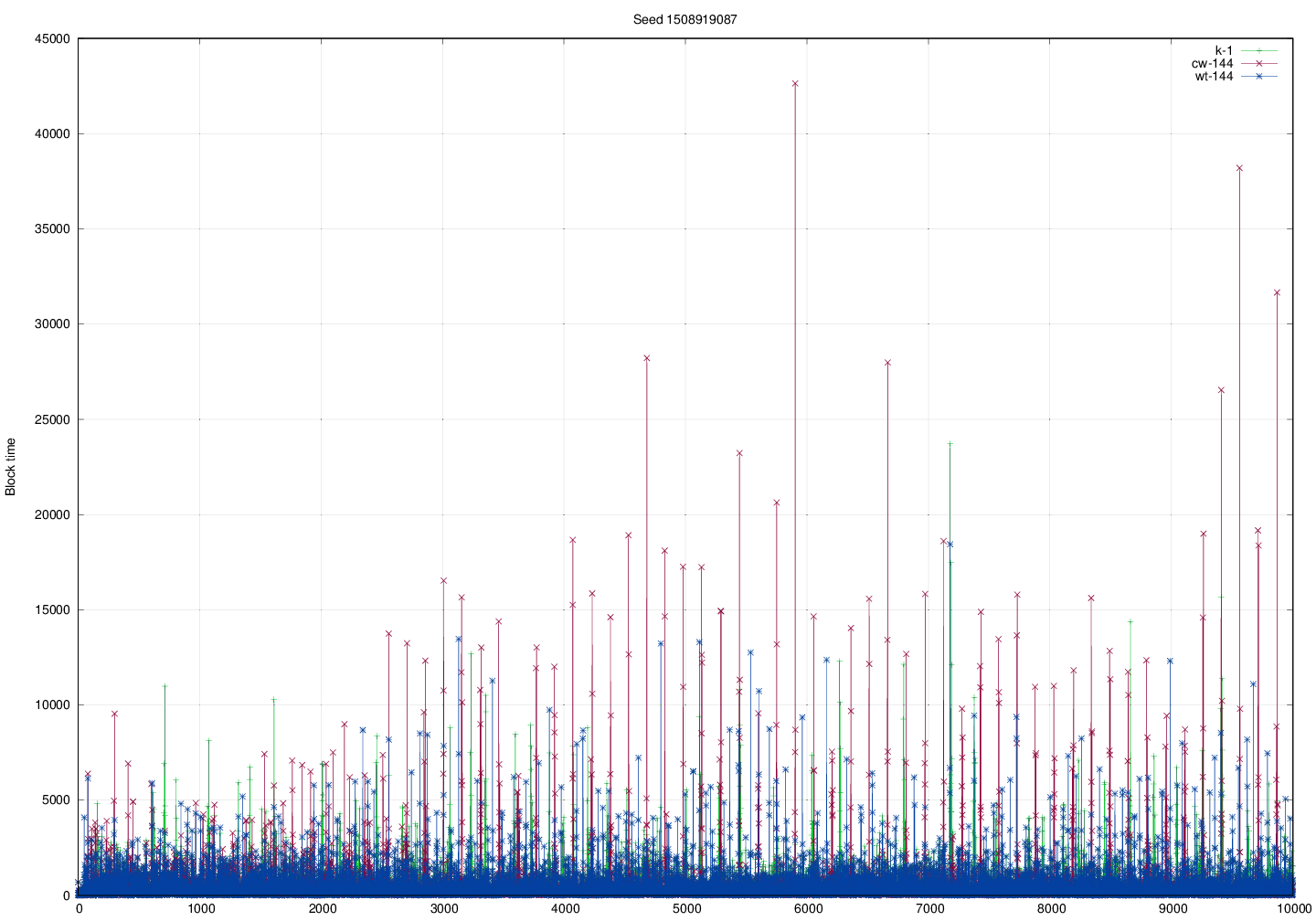 Algo
Stddev
Mean
Median
cw144
1654.50
603.44
230
k1
985.66
594.98
314
wt144
952.43
608.88
322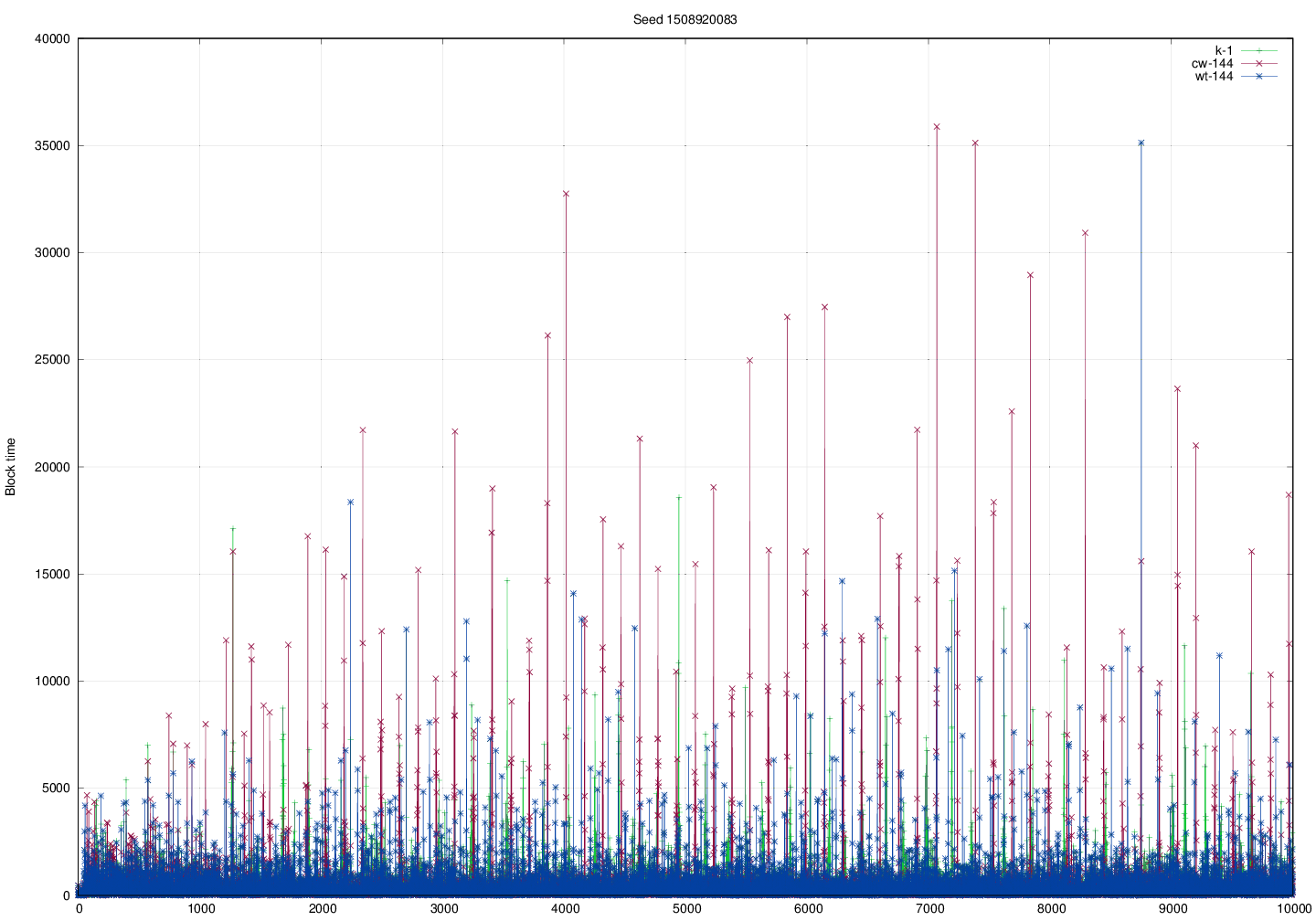 Algo
Stddev
Mean
Median
cw144
1791.52
606.83
217
k1
920.04
585.49
321
wt144
1038.24
610.53
326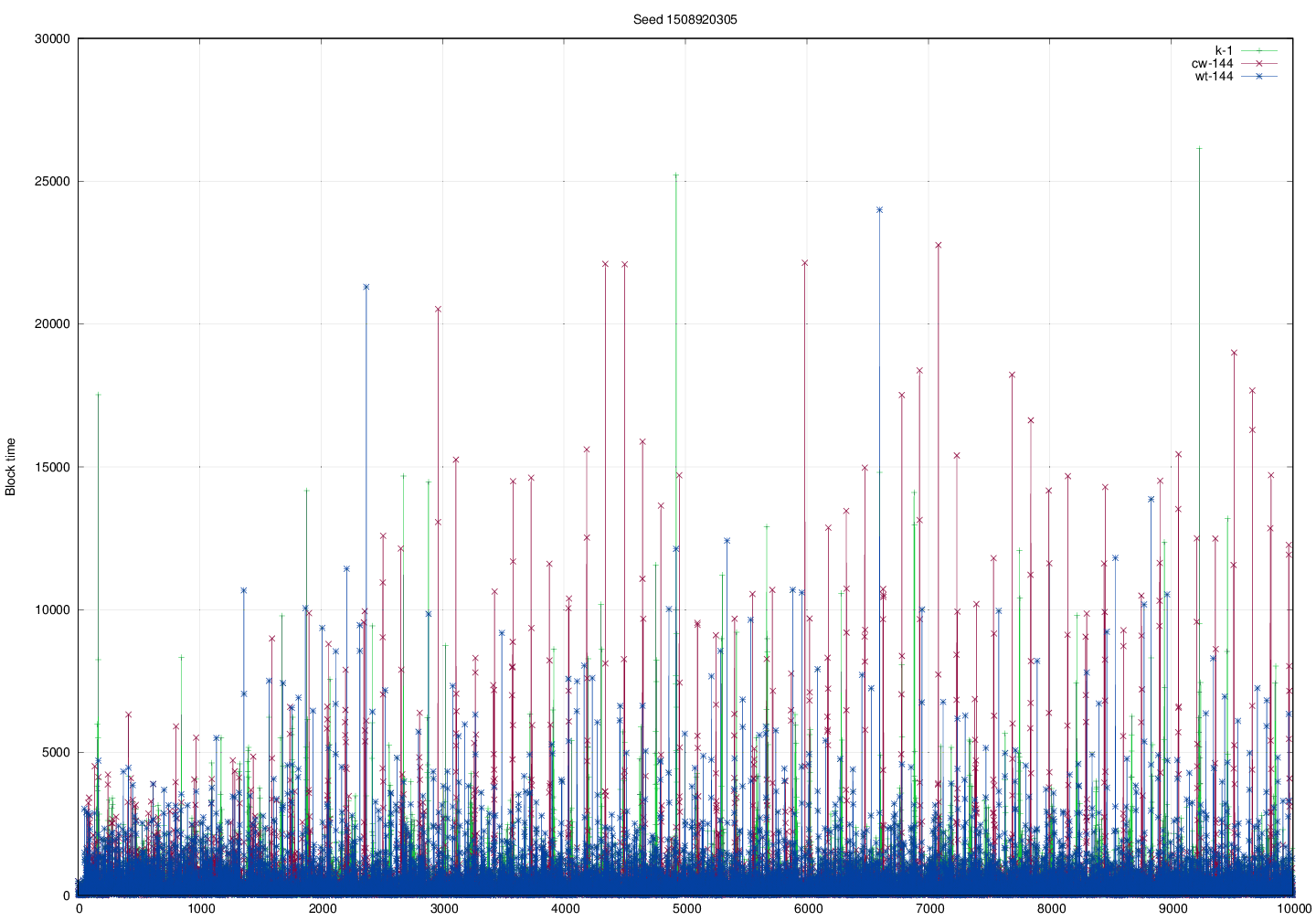 Algo
Stddev
Mean
Median
cw144
1468.75
604.58
244
k1
1063.63
593.26
301
wt144
994.37
608.96
324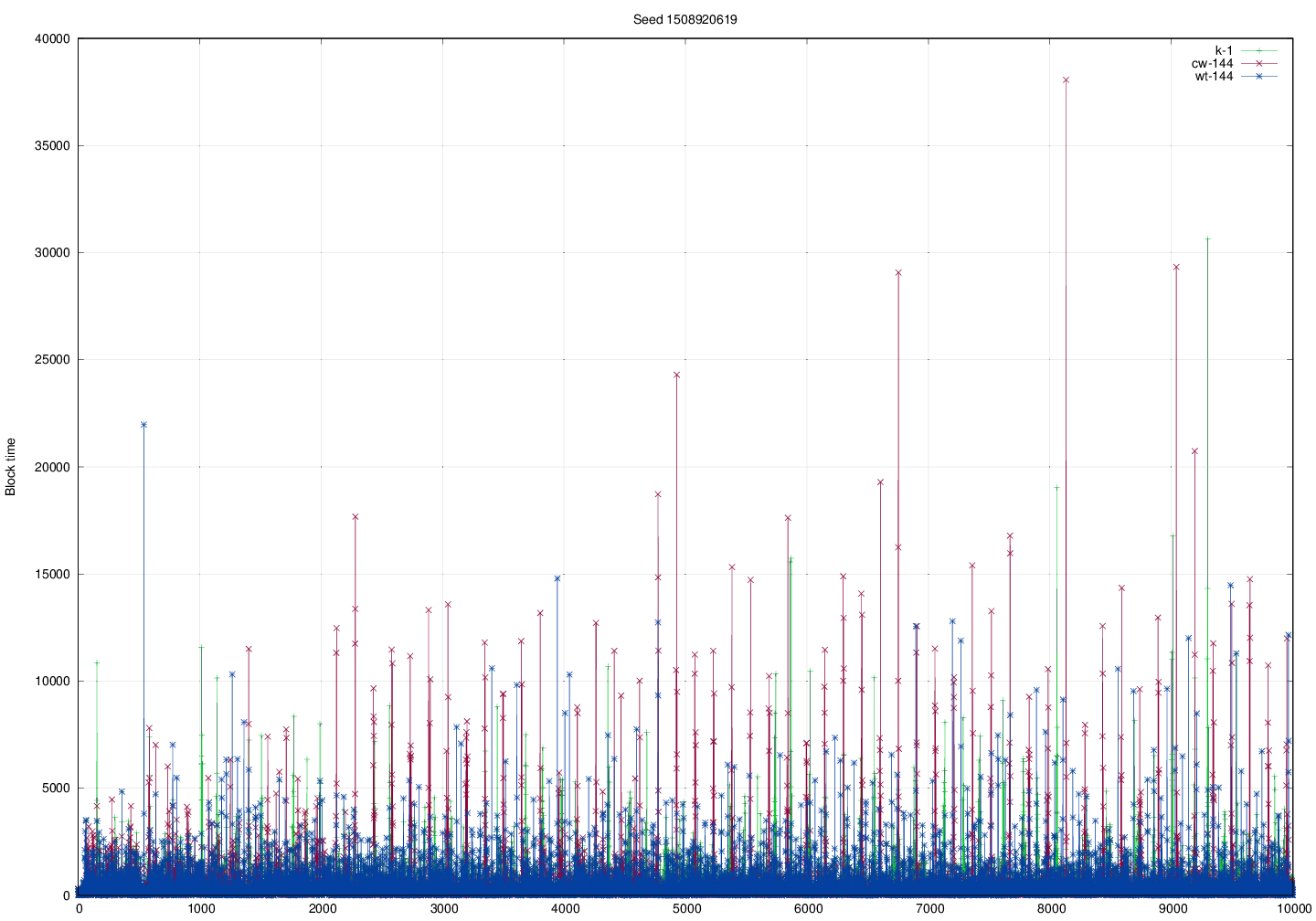 Algo
Stddev
Mean
Median
cw144
1553.34
605.64
217
k1
1027.75
592.04
302
wt144
969.19
609.53
317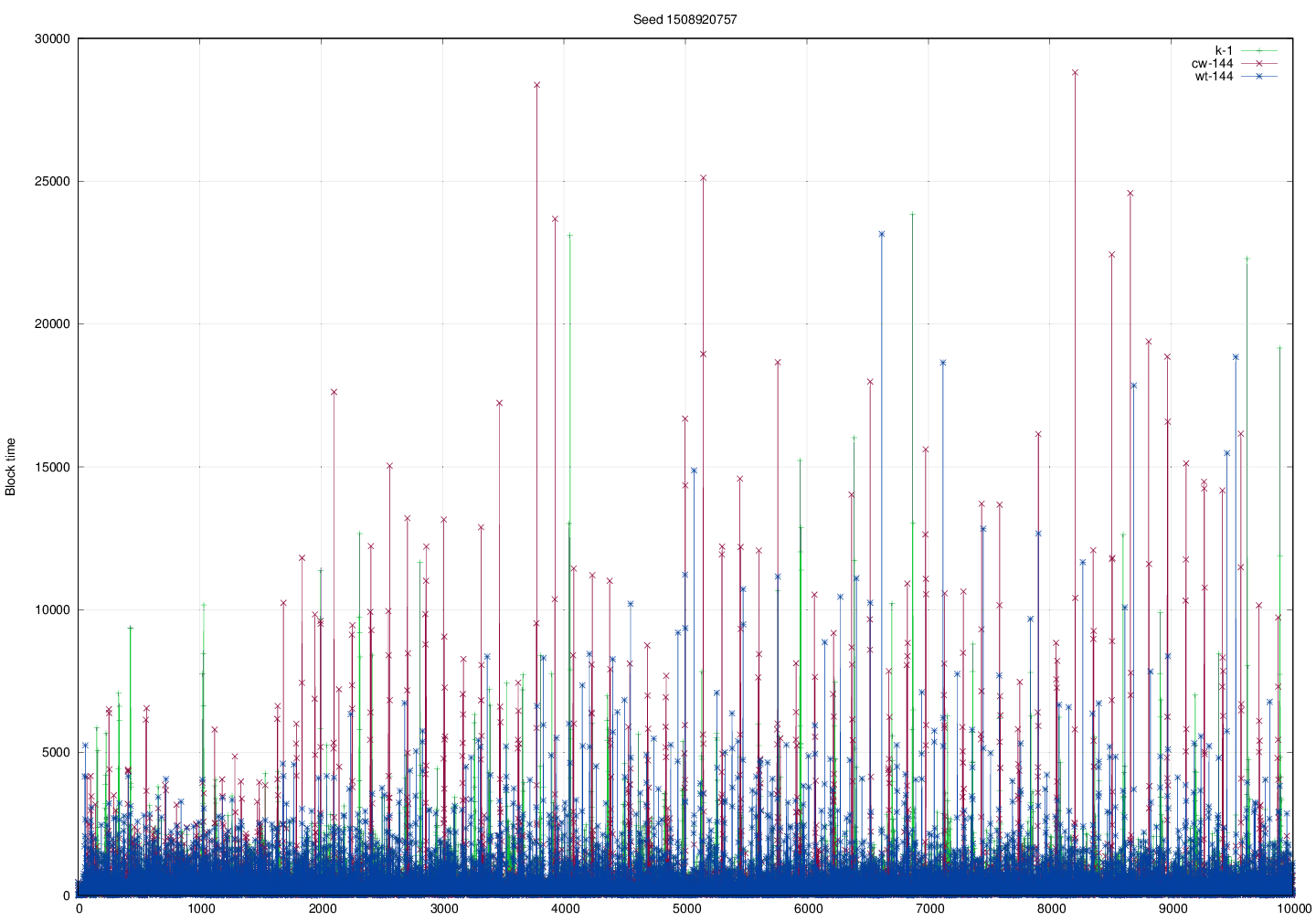 Algo
Stddev
Mean
Median
cw144
1525.87
601.24
232
k1
1057.59
594.92
305
wt144
982.91
608.43
337
Algo
Stddev
Mean
Median
cw144
1544.52
601.75
238
k1
945.63
590.56
319
wt144
967.04
609.54
327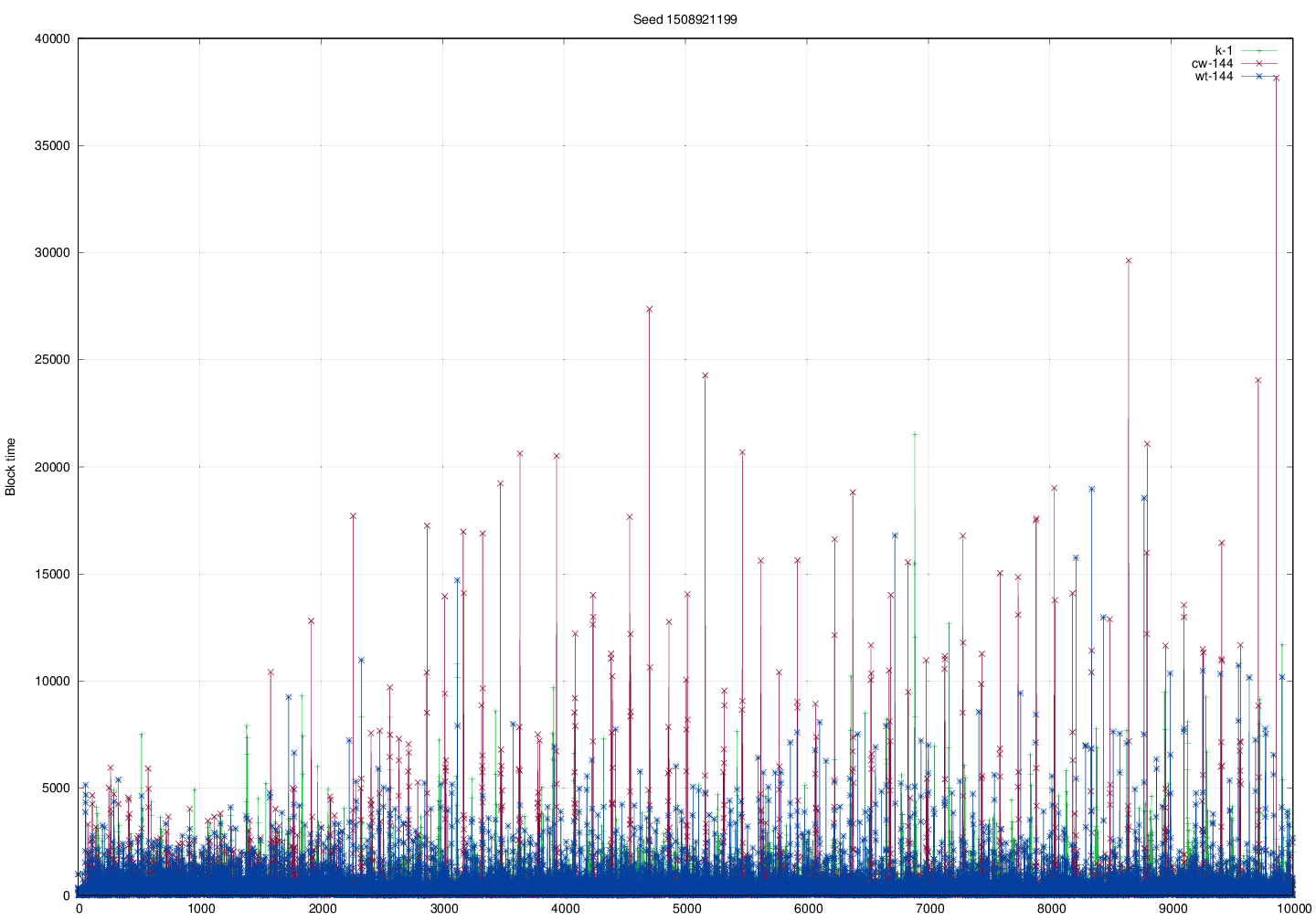 Algo
Stddev
Mean
Median
cw144
1583.02
601.75
232
k1
909.82
595.47
323
wt144
975.48
609.63
326.5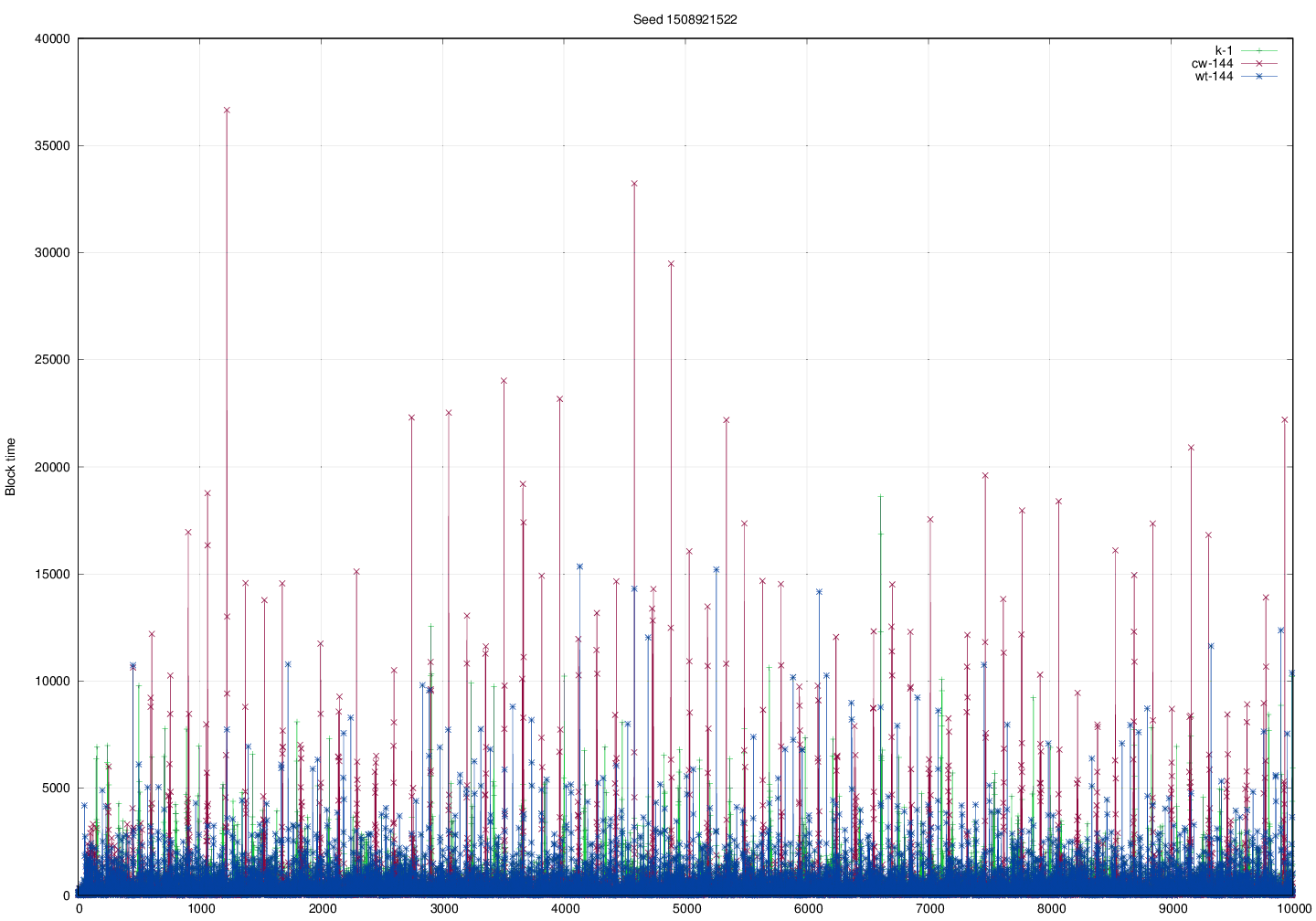 Algo
Stddev
Mean
Median
cw144
1685.84
607.98
204
k1
945.59
592.22
307
wt144
941.46
610.69
329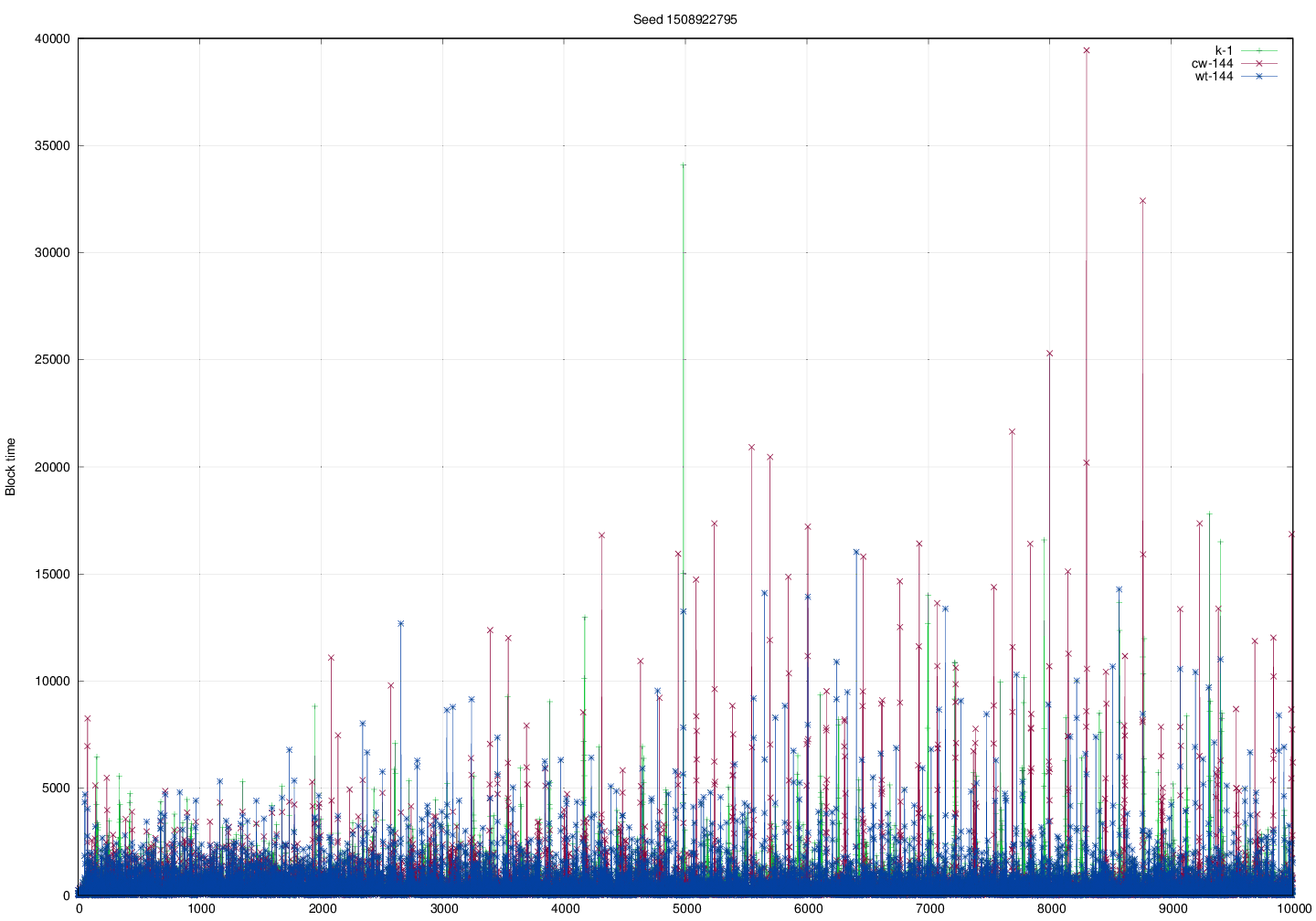 Algo
Stddev
Mean
Median
cw144
1411.09
606.64
260.5
k1
1027.96
599.73
320
wt144
966.31
610.27
327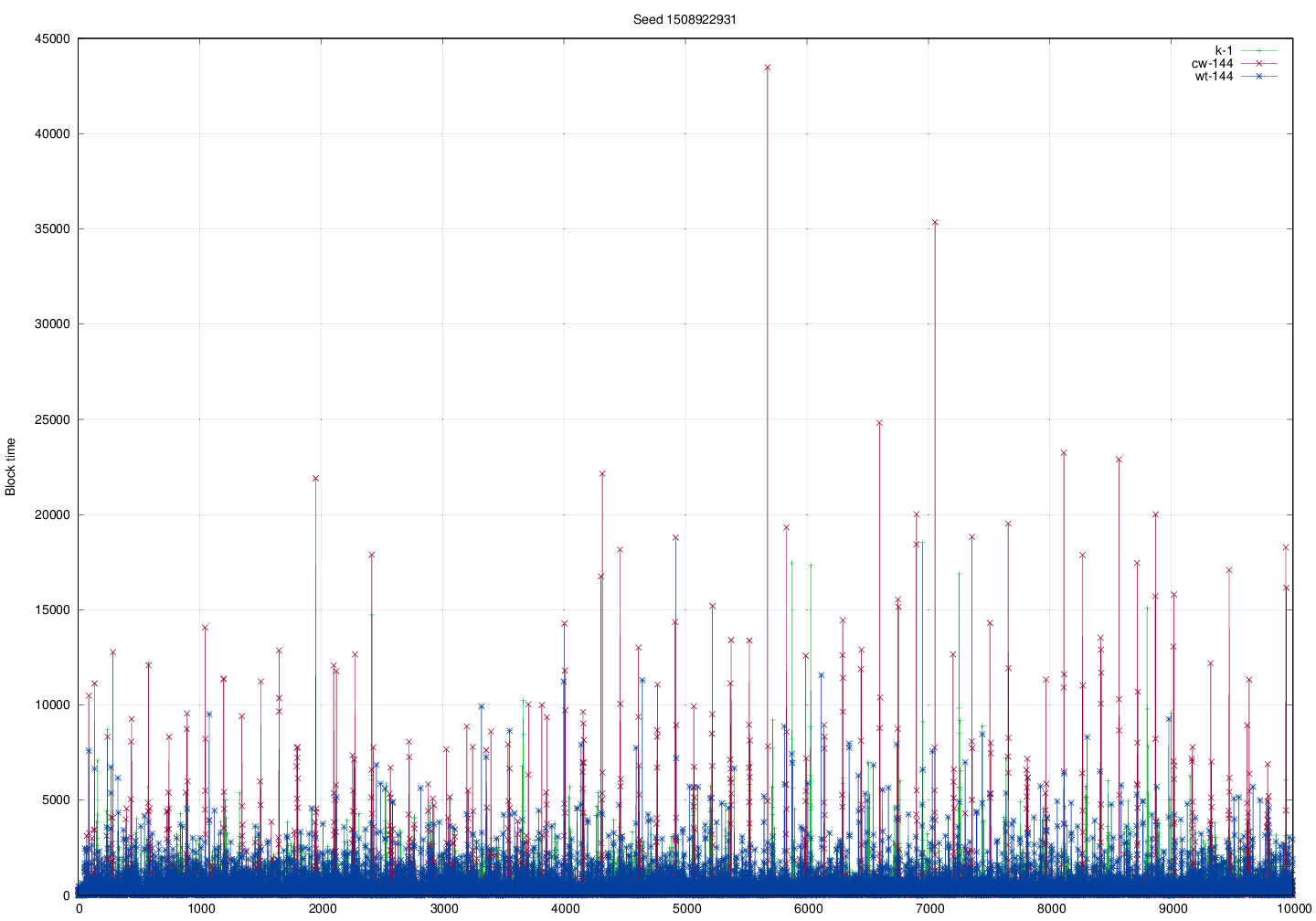 Algo
Stddev
Mean
Median
cw144
1672.37
606.61
210
k1
922.10
599.79
332.5
wt144
837.61
607.34
342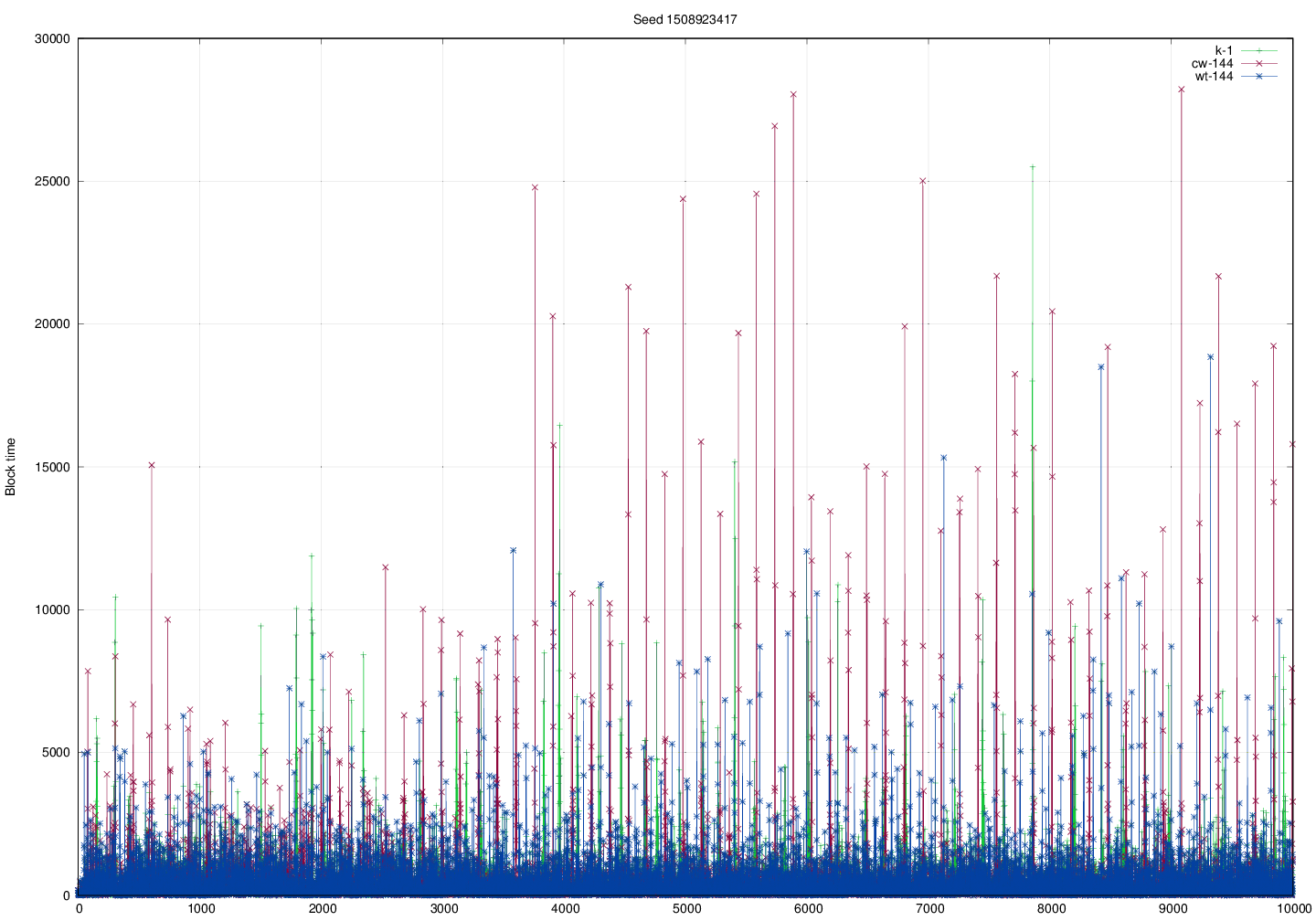 Algo
Stddev
Mean
Median
cw144
1593.07
605.70
236
k1
977.98
592.79
319
wt144
918.47
607.15
335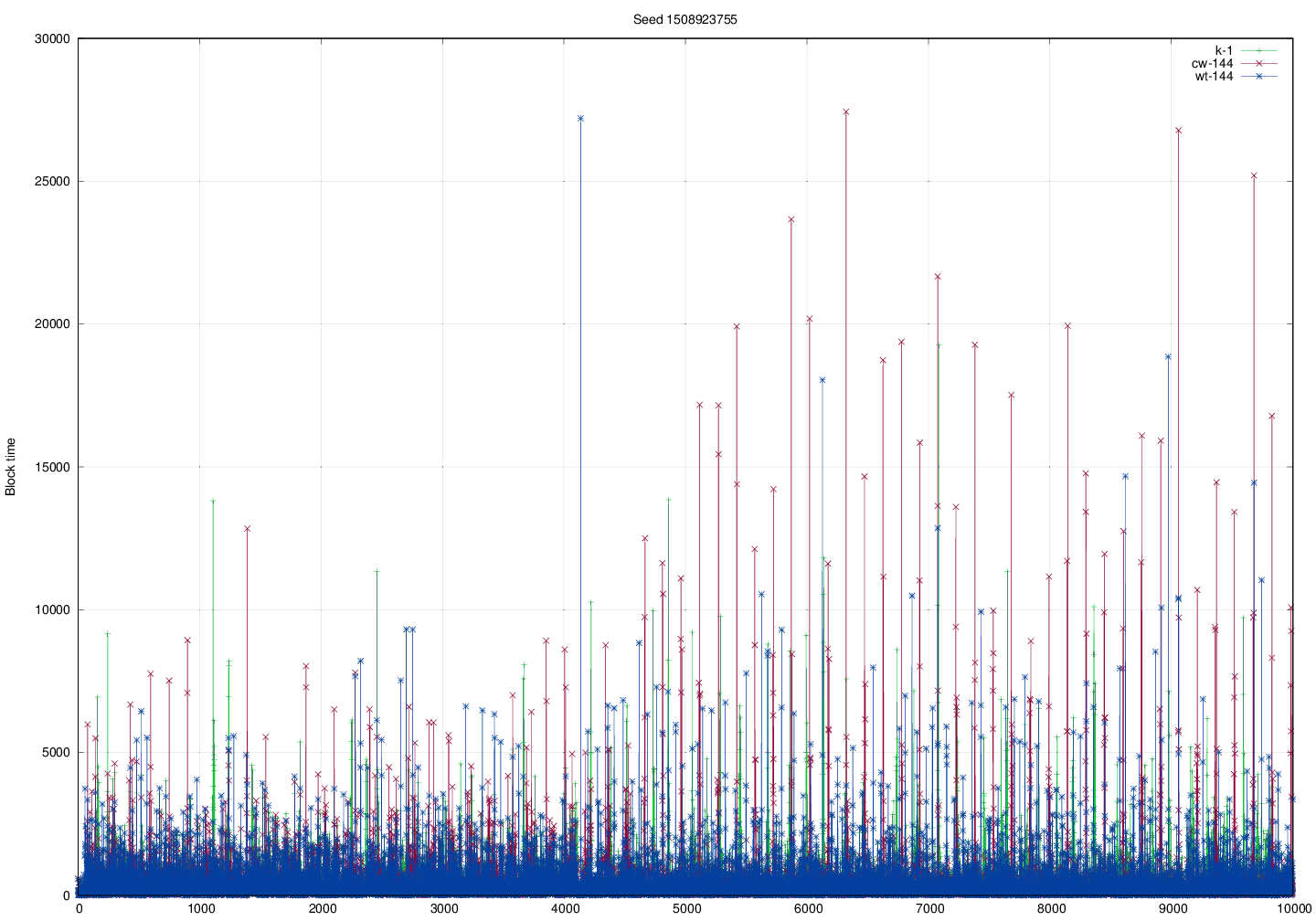 Algo
Stddev
Mean
Median
cw144
1405.12
603.07
252
k1
915.56
587.69
319
wt144
978.70
608.51
329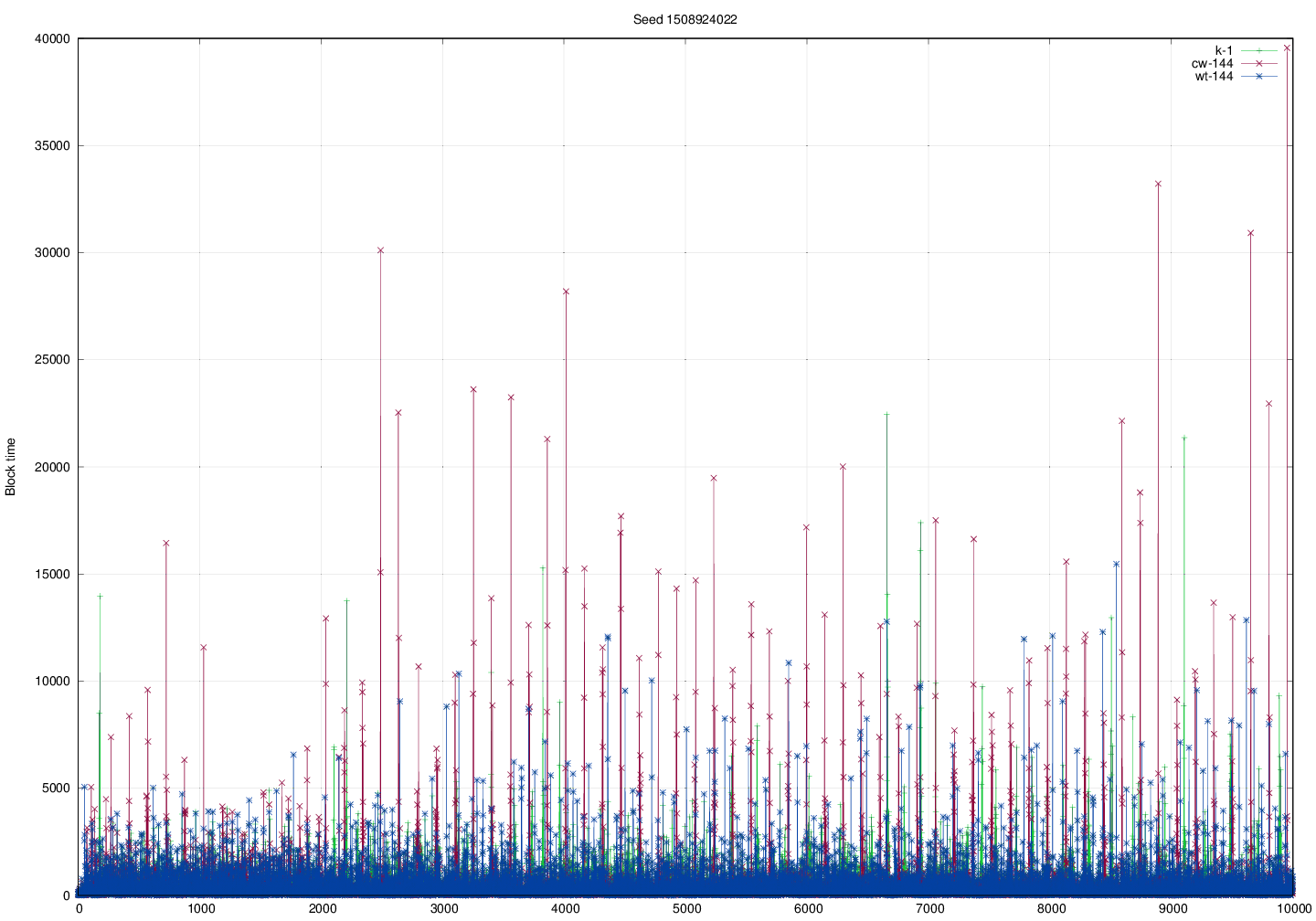 Algo
Stddev
Mean
Median
cw144
1655.99
605.07
220
k1
941.49
599.49
329
wt144
934.47
607.88
327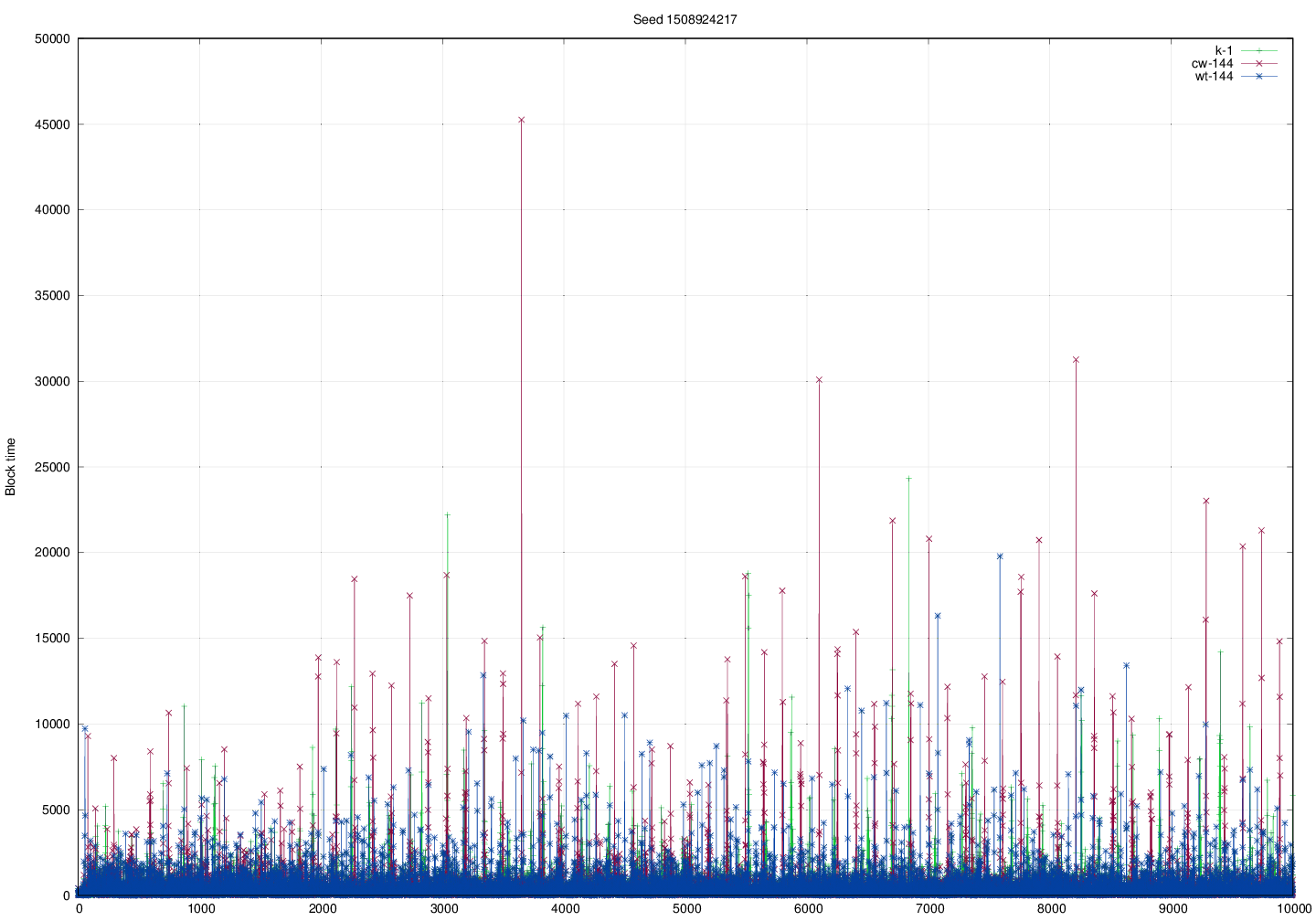 Algo
Stddev
Mean
Median
cw144
1553.69
601.85
244
k1
1046.90
590.83
310
wt144
966.58
609.49
324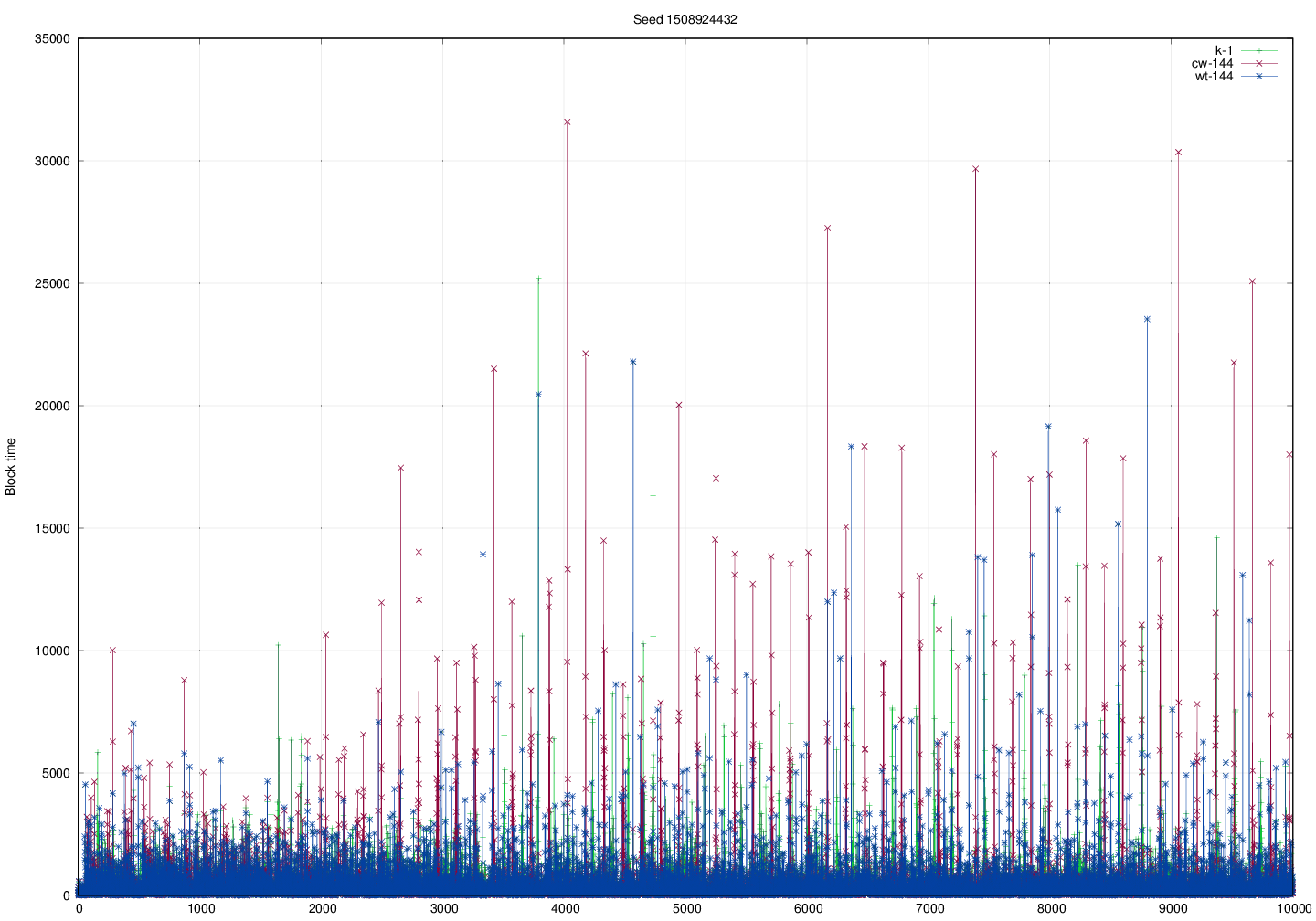 Algo
Stddev
Mean
Median
cw144
1567.74
605.10
225
k1
935.27
587.53
323
wt144
1023.17
609.50
333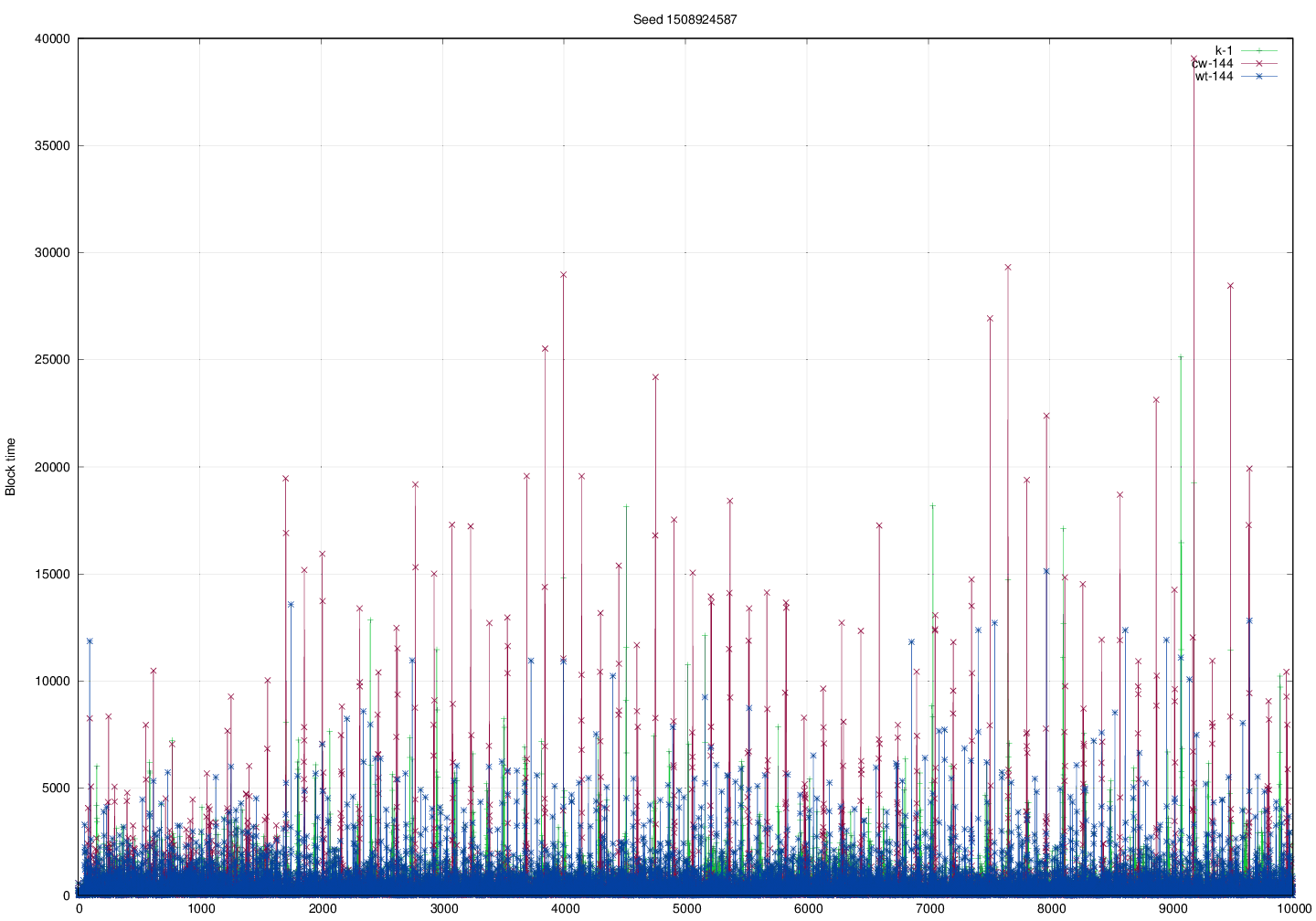 Algo
Stddev
Mean
Median
cw144
1716.55
608.10
216
k1
1024.86
588.12
304
wt144
955.14
609.17
322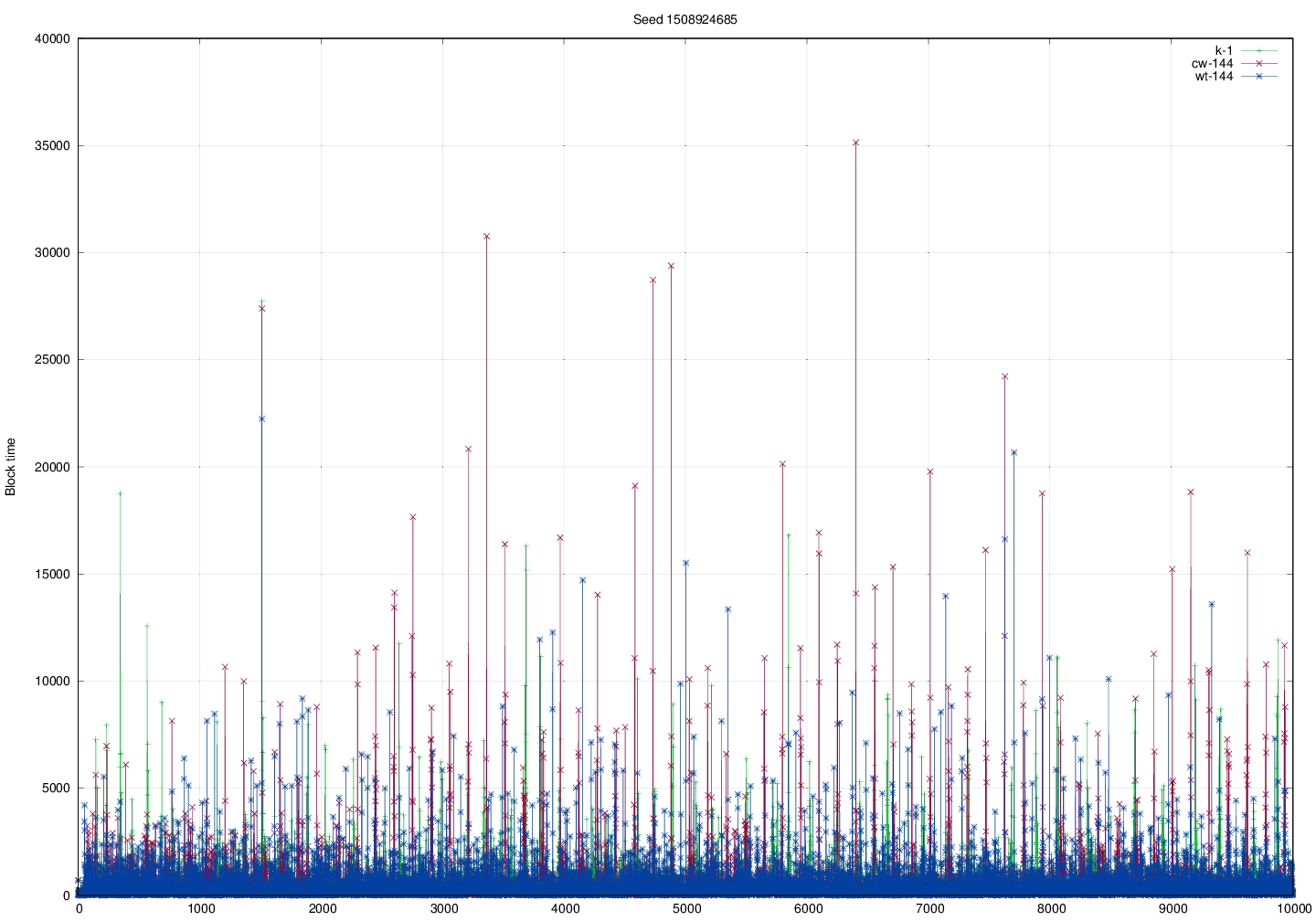 Algo
Stddev
Mean
Median
cw144
1511.36
604.90
242
k1
1022.36
595.88
312
wt144
1016.59
610.09
319
Algo
Stddev
Mean
Median
cw144
1603.82
605.26
225
k1
986.53
600.10
312
wt144
933.84
609.17
334